The reign of Daniil Medvedev as the best male tennis player in the world did not continue long – at least not this time.
Medvedev, a 26-year-old Russian, took over the top place for the first time in his career last week from Novak Djokovic, but Djokovic retook the top spot the week after Medvedev's third-round defeat to Gael Monfils at the BNP Paribas Open.
Despite the fact that he was unable to compete in the BNP Paribas Open due to the vaccine requirement for non-American visitors to the United States, Djokovic will rise.
Despite the fact that Medvedev is completely vaccinated against Covid-19, several of his colleagues feel he should not have been permitted to participate at Indian Wells due to Russia's invasion of Ukraine.
Most international team tournaments and several individual events have barred Russian participants, including World Cup biathlon and skiing contests, as well as the just-finished Beijing Winter Paralympics. See our predictions today to learn more.
Russian Tennis Players are a Hot Topic
At Indian Wells, Marta Kostyuk, a rising Ukrainian talent, said that Russian tennis stars like Medvedev should not be allowed to participate. However, after much discussion, tennis' governing authorities have opted to protect players' freedom to participate as neutrals but excluding Russia and Belarus, its ally, from participating in team tournaments such as the Davis Cup and the Billie Jean King Cup.
Medvedev is pleased to maintain his position, but he is well aware that the situation is fluid and delicate. "First and foremost, it is not for me to determine," he said. "I play by the rules." I'm at a loss on what to do. At the moment, the regulation allows us to play under our neutral flag."
The conflict, on the other hand, alters the perspective of games like Monday's. Monfils, who is ranked No. 28 in the world and is 35 years old, said he saw Monday's match through a personal lens rather than a political one.
In French, he added, "I'm not really political in general. I'm a pillar of strength for my wife. Her nation has suffered a setback. I do my hardest to help her succeed in anything she decides to do, but today we were here to play. I'm just relieved to have won my match."
Monfils said that seeing his Ukrainian in-laws' anguish was painful.
"It's not pleasant to watch my wife sobbing every night," he stated in English a few weeks ago. "There's still a lot of relatives there." Because I'm in it, it's difficult to explain. And, when you think about it, that's kind of ridiculous, but we try to handle it the best we can."
Kostyuk Sad With the Outreach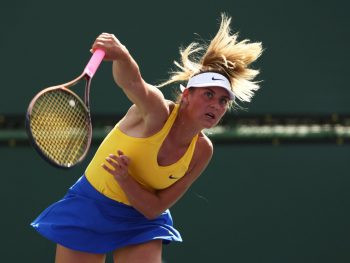 Despite the fact that several Russian and Belarusian stars, including Medvedev, have called for peace, Kostyuk, who was defeated in the second round here, expressed disappointment that more Russian players had not contacted her to apologize personally for the invasion. Belarus' Victoria Azarenka, a former world No. 1, said she has been looking for Ukrainian players since the conflict started last month.
"I realize that everything I say may be interpreted in a million different ways," she remarked. "However, one thing that our world lacks is compassion and empathy for one another. That's something I believe I can provide to others."
It hasn't been business as usual for Medvedev throughout his brief reign at the top. Reaching the top of the rankings is one of tennis' pinnacles, and Medvedev is the first guy outside of the Big Four of Novak Djokovic, Rafael Nadal, Roger Federer, and Andy Murray to hold the position since early 2004.
Medvedev was not Treated as a Typical Number One
That would have been the reason for celebration in normal times. But these are trying times, and although the ATP Tour did present Medvedev with the crystal trophy reserved for first-time No. 1 players and had a picture session with his entourage, there was no media tour, no series of promotional events, and no interviews.
Since the conflict started, no sponsors have deserted Medvedev, according to his management business, I.M.G. However, finding new overseas sponsors and capitalizing on his on-court performance is proving to be a difficult task for Medvedev.
With the battle on, it's best for Russian celebrities to keep a low profile. Speaking out against the conflict, or supporting Russian President Vladimir V. Putin, might put them and their family in danger in Russia or Belarus.