It was another glorious day (weather-wise and tennis-wise) in Monte Carlo. Especially for Stan Wawrinka who didn't have any issues whatsoever in dismissing Jiri Vesely in straight sets. For you racquet nerds it's good to mention that Vesely was playing with a blacked-out Srixon racquet with what looked like a really small head size. It didn't do him much good against an in-form Wawrinka however.
Andy Murray has been off the tour due to elbow injury and his rust was visible against Gilles Muller, who is usually more comfortable on faster courts but showed today that he can really play tennis on any surface. Muller was up 5-2 before Murray decided not to miss any more shots and after a few nervous, missed backhand volleys under pressure, Murray wrapped up the set at 7-5. Muller destroyed his Wilson racquet in frustration. The second set was also a fight, but again Murray prevailed by the slimmest of margins. Final score: 7-5 7-5 in his favour.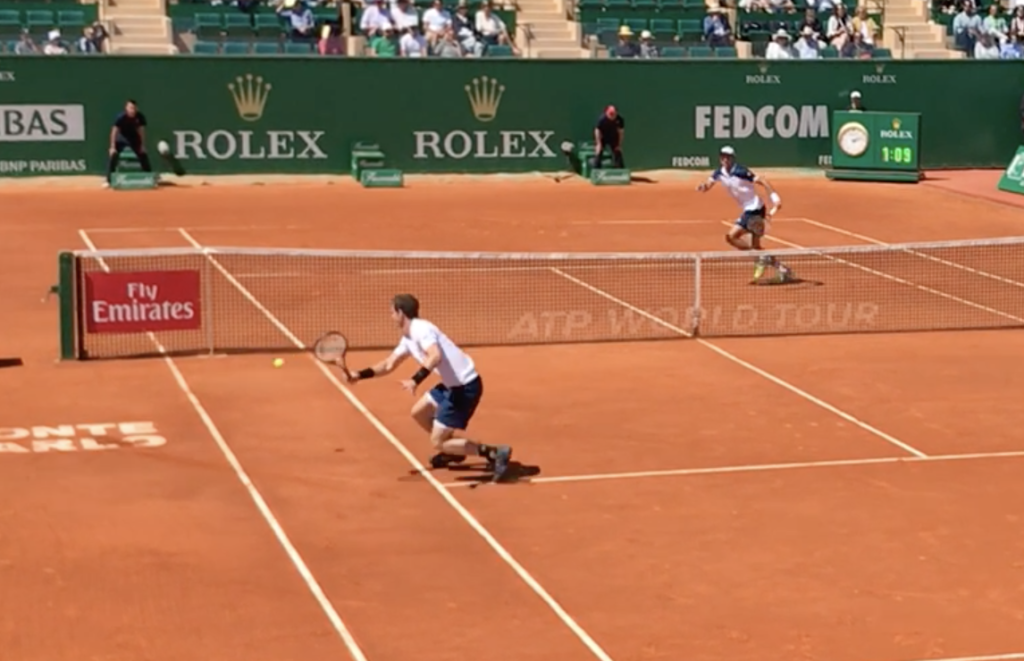 Murray wasn't the only rusty player on court, after a blistering first set where he didn't miss a single shot and won it 6-0, Nadal started looking a little bit out of it against young Briton Kyle Edmund. Edmund who displayed nerves and couldn't put a foot right in the first set, suddenly started unloading one of the fiercest forehands I've ever seen. He was painting lines and playing toe-to-toe with Nadal from the back of the court. After the first bagel, the audience was in shock to see this kind of game from him.
Nadal seemed a bit flabbergasted and he couldn't find a way to save the second set. Also, the third didn't come easy to him and although he was up a break at 3-2, he was broken back immediately. But then he found that extra gear and prevailed 6-3 in the final set.
The Nadal vs Edmund match had a funny episode where a determined bird didn't want to leave the court. Watch the video of that here.
What does this mean for the rest of the tournament? I previously predicted that Nadal could and probably should win both Monte Carlo and the French Open for a tenth time. His so-so performance here hasn't changed that. He is always a bit nervous during the first match and he will quickly find his groove on the clay he loves so much. Wawrinka can be a tough competitor, but Murray didn't inspire me much with his game today. I have a hard time seeing him pick up a clay court Masters or more in 2017.
Comment below if you agree or disagree…