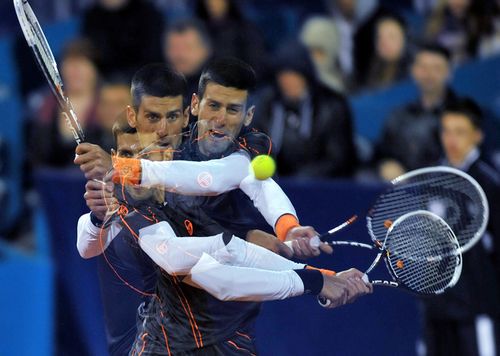 I said in my post before the match that the Rome Masters semifinal against Murray might be a tough one for Djokovic as he must be getting tired after all these matches. And it was! After being outplayed in the first set (6-1 to Djoko) Murray started playing some amazing clay court tennis, defending and at the same time pushing Djokovic from side to side. The Serb started looking a bit tired while Murray looked pumped. Was this where the streak would end?
The third set was a real tussle between two heavyweights of men's tennis. They were blows being thrown left and right and for a while Djokovic was reeling and twice he was down a break and at 5-4 Murray was even serving for the match.
But Djokovic is in some kind of Matrix Neo (like in the picture, thanks to Getty and Forty Deuce for that) mode right now, he can't put a foot wrong, and he managed to dig out the goods in the end, winning 7-2 in the tiebreaker.
Big kudos to Murray for fighting so hard and really pushing Djokovic to an extraterrestrial gear. These guys really did play what Tennis TV commentator Rob Koenig calls "tennis from another planet".
Today's final might not be so tight though. Nadal is fresh and ready for revenge and Djokovic MUST be exhausted. Nadal will make Djokovic run hard and in my mind I can only see one winner today. But looking at the level of play and the competition in mens tennis today, we're all winners.