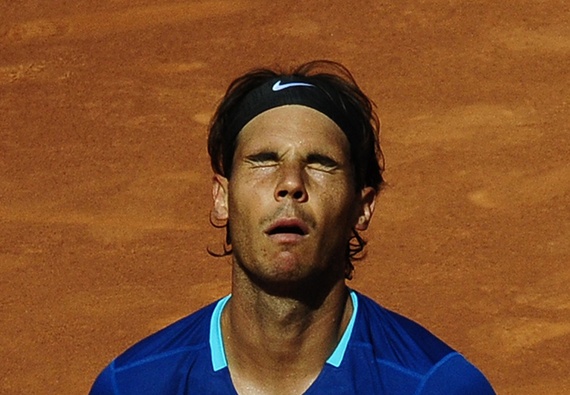 It's a bit funny the journalist ask why I struggle when I win, no?

When Nadal was asked why he was struggling after two three set wins against Simon and Youzhny. Nadal smiled and said:
"Get used to it. With the years that's the normal thing. Everybody suffers. That's part of the sport. It's not possible to win for 10 years with easy scores and easy matches. At the same time, I'm sure I can do much better than I am doing."
Despite that, he's excited about playing Andy Murray:
"It's a positive match to play because you play against one of the best player of the world after two tough days," said Nadal. "I don't know how he has changed his play. I know he has a complete game but I have to focus on myself."
Nadal, in his humble and stoic ways, is right of course. Despite winning 8 Roland Garros trophies, he can't take any victories for granted and that's what made him become the kind of player he is.
He edges his way through matches where it seems he would love to be anywhere else but on the tennis court (despite that it's made of clay) and where his opponents would sacrifice a non-vital body part to be able to say they beat the king of clay on his home turf. The disposition of a true champion.
In my mind he was lucky to get out of the Madrid final unscathed, because if Kei Nishikori had been completely healthy – the Japanese youngster had probably won that match, but against Simon and Youzhny he wasn't lucky – he just out-gutted them.
There's something about Nadal's play in 2014 that doesn't feel quite right though and although there's this familiar feeling that when Roland Garros comes around he'll feel his best again and be more than ready to run for hours on end to lift that precious trophy,  I can't help but think we'll have someone else on top in the French capital.
Maybe this Serbian guy they've been writing about?
Here are the results from yesterday's action in Rome Masters:
SINGLES – THIRD ROUND RESULTS ROME MASTERS
[1] R Nadal (ESP) d [14] M Youzhny (RUS) 67(4) 62 61
[2] N Djokovic (SRB) d P Kohlschreiber (GER) 46 62 61
[15] T Haas (GER) d [3] S Wawrinka (SUI) 57 62 63
[5] D Ferrer (ESP) d E Gulbis (LAT) 62 63
[12] G Dimitrov (BUL) d [6] T Berdych (CZE) 67(3) 62 62
[7] A Murray (GBR) d [PR] J Melzer (AUT) 76(1) 64
[8] M Raonic (CAN) d [11] J Tsonga (FRA) 76(5) 64
J Chardy (FRA) d I Dodig (CRO) 63 62
SCHEDULE QUARTER-FINALS – FRIDAY, 16 MAY 2014
(my picks in bold)
CENTRALE
Not Before 2:00 pm
ATP – [15] T Haas (GER) vs [12] G Dimitrov (BUL)
Not Before 4:00 pm
ATP – [5] D Ferrer (ESP) vs [2] N Djokovic (SRB)
Not Before 9:00 pm
ATP – [1] R Nadal (ESP) vs [7] A Murray (GBR)
GRANDSTAND start 12:00 noon
ATP – [8] M Raonic (CAN) vs J Chardy (FRA)