Yeah, the Roland Garros quarter-finals 2015 is all about what should really be a final, 9-time winner Nadal vs world number one and clay-court nemesis, Djokovic.
But there are other matches too of course. This is what you need to watch:
Tsonga vs Nishikori
Cowabonga Tsonga is back in good shape and being the remaining Frenchman in the draw, he sure will get all the support he needs. Whether that is enough against the lightning fast world number 5, Nishikori, is another matter. If the match goes to five sets, Tsonga should be able to ride the wave from playing at home. But somehow I feel his nerves will get in the way of his best performance and the better player will prevail in four sets. And with that I mean Nishikori.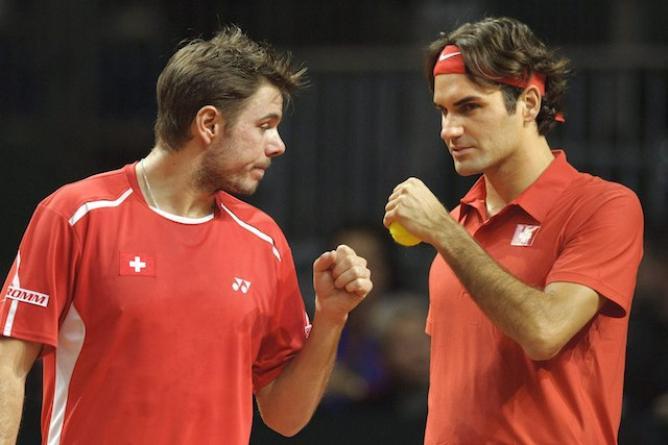 Federer vs Wawrinka
They're both playing well. They're both Swiss. They both play aggressively. They both have elegant one-handed backhands. Only 16 slams separate them. Joking aside, this match can go two ways. Either Federer wins easily or Wawrinka wins in five sets. Federer leads H2H by 16-2 and is the favourite. Wawrinka needs to play aggressive and be on his game to win. My gut says Federer in four sets. Yes, this is the third way. There are always more ways than two.
Murray vs Ferrer
Will this be a grind! Two players with an endless love of running will try to outwit and outlast each other on the beautiful red dirt. Murray leads the head-to-head 9-6, but Ferrer has won ALL their matches on clay. This is Murray's best year by far on the surface and he's on a 15 matches unbeaten streak (fact check!). Still, I feel Ferrer might have more fuel in the tank in this five-setter.
Djokovic vs Nadal
Possibly the most anticipated match of the year. Can Djokovic beat his demons and his rival in the tournament he wants so badly? All the stats speak in Djokovic's favour if you look at recent times, but Nadal has never lost against him at the French Open. Still, Djokovic has won 5 out of their 6 most recent matches and should basically have enough confidence to take on Nadal and Federer as a double's team. You never know with Nadal on clay at Roland Garros, but it feels like this is simply Djokovic's turn. Like it or not.
My predictions stink? Possibly! Let me know why in the comments.