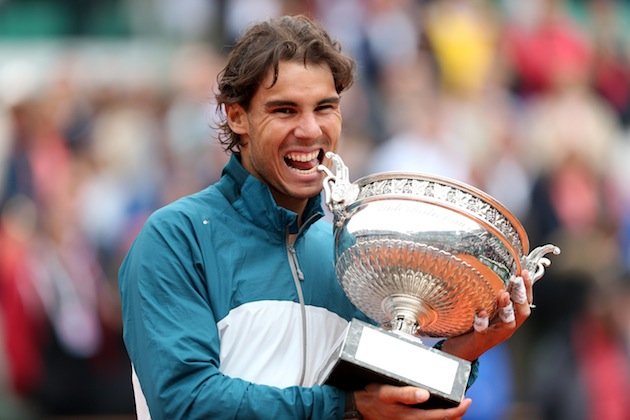 Nadal beat Djokovic 3–6, 7–5, 6–2, 6–4 to win a record ninth French Open, his 14th grand slam (equalling Pete Sampras in second spot of the all-time list) and to keep the number one spot in the rankings.
The match didn't hold the quality of last year's semi-final, but it was a great match with lots of ups and downs, but as soon as Nadal had won the second set he looked ready to run a few more hours, while Djokovic looked tired. It's almost like you need a 2-0 lead to feel like you have a chance.
Despite Nadal winning the third set 6-2 he had to fight off a lot of break chances and maintain a cool head throughout the set. The win seemed close after the third and certain after he had broken to 4-2 in the fourth, but you can never count out Novak Djokovic and the Serb came back up to 4-4 before Nadal held serve and broke at 5-4 to win the title.
It ended on a slightly sour note with the crowd disturbing Djokovic's serve at 30-40 before his second serve and he couldn't help but mock-applauding the audience when his serve landed a foot long.
No matter that stupid interruption, Nadal would likely have won that match anyway. He seemed fresher, was a set up and Djokovic didn't seem to be in positive frame of mind and his body language often seemed to say: "What can I do to beat this guy here?"
What do you say to that? Call Robin Soderling?
All you can do is tip your hat to Rafa and congratulate him on another slam. To Djokovic we have to do like the Roland Garros crowd and give him a standing ovation for being the amazing player his. Close, but no cigar. Maybe he will crack the Rafa/Roland riddle in 2015?