Next week it is time for the Next Gen Finals 2019. Besides building new stars in tennis, it is also a testing ground for new rules and tech.
The Next Gen Finals 2019 will be played, like the previous editions, in Milan, Italy.  The tournament features the best seven (age 21-or-under) qualified players of the season (as determined by the ATP Rankings on Monday, 28 October 2019), plus one wild card, battling for US$ 1.4 million in prize money over five days of competition. Read more on the official website.
The competition is a testing ground for new rules and tech.
Here are a few innovations:
Best-of-five-sets format
Shorter sets to 4 (tie-break at 3-All)
No-Ad scoring.
Electronic Line Calling through Hawk-Eye Live
25-second Shot Clock
In-Match player coaching via head-sets
Video Review
(This year they will not use the no-let rule like previous years.)
What is new for 2019 is that the players will be permitted to use wearable technology.
The eight players of 2019: Mikael Ymer, Ugo Humbert, Casper Ruud, Alex De Minaur, Denis Shapovalov, Frances Tiafoe, Miomir Kecmanovic, and Jannik Sinner.
Why wearable tech?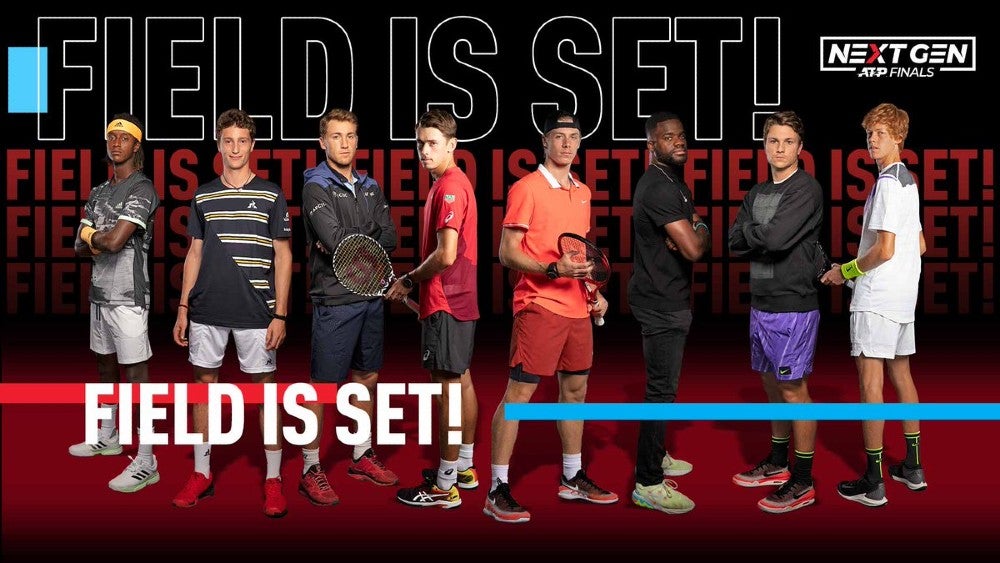 The players will be using a wearable device. This will consist of a GPS receiver and inertial sensors that measure velocity and direction, acceleration and force, rotation, and body orientation. The data from the wearable device will provide accurate maps of movements and actions. The information will only be accessible by each player and those that the player gives access to.
Players and coaches will be provided with post-match and post-practice reports, and they will also have the opportunity to synchronize the data with match footage to add additional context.
Chris Kermode, ATP Executive Chairman & President, said: "From the outset, the Next Gen ATP Finals have been at the cutting edge of innovation in our sport, and the use of wearable technology this year during matches will provide some invaluable insights to players, coaches and ATP medical services. This is a unique tournament that has always embraced new technologies, and this is the latest step as the event continues to pioneer innovation in the game."
What do you think about the Next Gen Finals?
Some people and players are critical of the whole idea with Next Gen. Partly because it puts too much pressure on the players to "deliver", but also because they get a bit special treatment compared to the rest of the tour. Personally I can see why ATP wanted to introduce this. The fear of "what will happen to tennis?" when Federer, Nadal, and Djokovic retires is real and there for a reason. You need to build new stars to sustain a healthy interest in the sport.
I also like the idea of testing new rules and scoring. Tennis is a sport filled with tradition and it is healthy to test ways to inject more life into it and make it more appealing for a wider audience. My visit to Laver Cup was eye-opening in the way how tennis can create more entertainment and generate more buzz. Here are a few logical ideas, I am keen to hear what you think about them:
More team tournaments – team sports generate more interest and is also good from a social aspect.
Shorten matches – more sets, but shorter seems to be an interesting idea for more drama.
The production around tour matches needs to be better. Announcer, lights, music etc.
I like tennis the way it is in many ways, but I am a nerd. So we have to think about the life of the sport outside our more hardcore group of tennis fans.
What do you think and will you be watching?