The ATP season starts today with action in Quatar, Chennai (India), and Brisbane, the first three of six ATP tournaments in January. See the schedule from the ATP World Tour website below: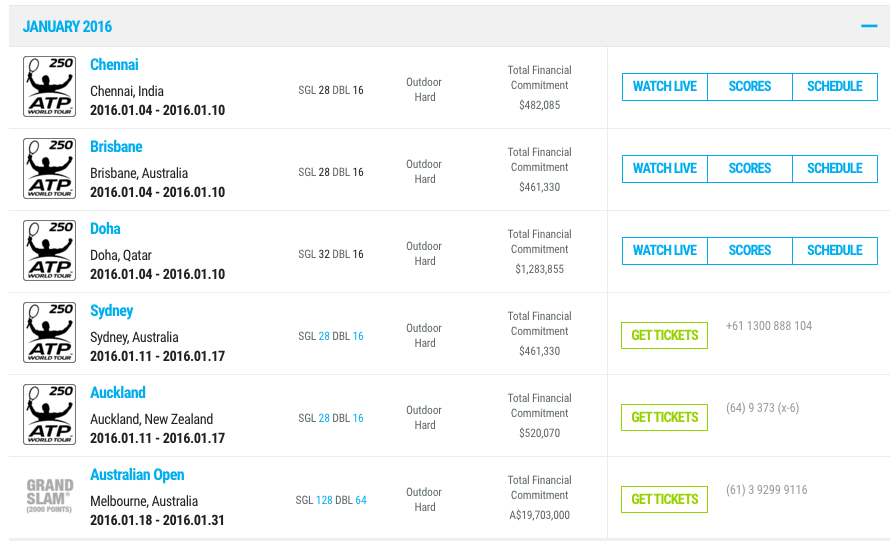 Federer is playing in Brisbane, Wawrinka in Chennai, Nadal and Djokovic in Doha (Quatar) this first week of an exciting new tennis year.
Some quick thoughts on how I think 2016 will play out:
Federer had a great 2015 with a couple of near misses (slam finals in Wimbledon and US Open). His biggest challenge will be to find a way to beat Djokovic in best of five sets. And I think he will find a way through in his favourite slam, Wimbledon and claim his 18th slam. I think he will end the year on 3rd spot in the rankings.
Djokovic had an amazing year where he was close to being unbeatable. This means he will move into 2016 with lots of confidence. But it will also mean that he will have a sight on his back and everyone will be really keen to beat him and will try different ways to do it over the year. I think Djokovic is quite far ahead of a 95% of the players so he won't lose many matches, but there will be some tough losses in 2016. My predictions is that he will win the French Open for the first time and also US Open. This will take his slam count up to 12 (!).
Nadal has shown already in his preparation (Mubadala) that he's keen on starting 2016 with style. From the early matches that I've seen his definitely trying to play more aggressively. I think he's back to win another slam and this year I think it's Australian Open. It's a risky bet, but I'm feeling strongly that either Australian Open or Roland Garros will be his.
Murray didn't have a rosy 2015 by his standards and it's hard to see how he's going to turn that around. He needs his game to evolve more and play more aggressively and improve his second serve. If he doesn't change something, I have a hard time seeing him win any slams. Maybe a Masters or two, but nothing more than that.
The rest. The rest is still…the rest. What can we expect from Nishikori, Dimitrov, Kyrgios and Raonic for example? Any other players who have the weapons to challenge for a slam or make big leaps? I don't know. The most accomplished player is definitely Nishikori, but he needs to work on a bigger serve to be a threat for the top 4 spots.
Dimitrov was a let-down last year. Can he change? Big question mark here for me. It's high time he makes a move, but on the other hand Wawrinka blossomed into the player he is quite late so nothing is impossible. But I wouldn't bet on him to be a success to be honest. He still seems to lack that crazy desire to win that you need.
Raonic has changed his team and is now with Carlos Moya. Interesting! I think Raonic might have the tools to be a threat to the top guys but he needs to work a lot on his movement and net game. But he sure has the potential to go far in all the slams except the French.
Kyrgios is a flashy guy who's fun for the tour, but I doubt seeing him win titles in 2016. Too inconsistent both in game and attitude to make the leap. He is, however, going to be interesting to watch.
Results just in: Dimitrov started his 2016 campaign well by beating Simon in straight sets.