Toni Nadal was in Stuttgart briefly with new sponsor OkMobility (Mallorca and Stuttgart ATP 250s). Good news: Rafa may play Wimbledon.
It's not a hundred percent certain yet, but the new foot therapies seem to be making it possible for Rafa to start training again from next week at the grass courts of the Mallorca Country Club. So you can't count out seeing the 22 grand slam champion at the third Grand Slam of the year if all goes well. Most tennis fans will be excited to hear that it's possible that Rafa may play Wimbledon.
But Toni was not there to talk about Rafa's chances of winning the Grand Slam. He was very happy to announce a new sponsor in place for the Mallorca ATP 250. He was extra excited that it's a company of Mallorcan origin, the mobility company OK Mobility. He shared the stage with CEO and founder Othman Ktiri, who seems to be quite a tennis nerd himself.
For tennis nerds, it was also interesting to listen to some of Nadal's comments about his newphew's amazing feat at the French Open (22nd grand slam title, 14 French Opens).
He was particularly impressed that Rafa could win a Grand Slam title without practice. Rafa's foot was not great during the event, but daily anesthesia and night time icing (sleeping with the foot iced allegedly), made it possible for Rafa to play with a completely numb foot.
He also said that Rafa can do a surgery to the foot, but when he does he will never be able to play on the top level again. Which is why he is waiting. But the new foot therapy seems to be working well and it seems possible that Nadal can play Wimbledon.
His work with Felix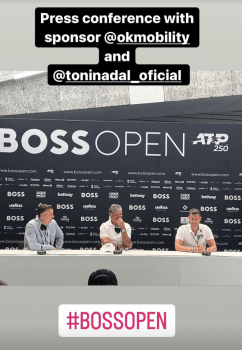 Nadal was also asked about his work with Felix. It had created a strange situation when Auger-Aliassime played his nephew at the French Open, because, as expected, Toni has to wish the best for the family first.
Generally, he is happy with Felix's progress. They started working together when the Canadian was 22 in the world and now he's a top ten player. But the potential is there to go further according to Toni. There is even a chance for him to compete for the first spot in the world. He is athletic, has a strong forehand and serve. Key ingredients to stay at the top of the game.
Felix contacted Toni to help him reduce the errors he was making and it's clear that Auger-Aliassime is a more solid player now. Toni called Felix a smart player with a strong desire to improve.