Well, sometimes things just don't go the way you thought they would. In my preview post, I thought Dimitrov would beat Schwartzman, Carreno Busta win his first title against Almagro and Kohlschreiber wouldn't be able to match a Thiem who looks ready for top ten. I got all three of them wrong.
ATP 250 final Istanbul Open
Grigor Dimitrov is a showman and Diego Schwartzman is a work horse who seemingly gets every ball back. On paper it was supposed to be an interesting match-up and it was. The match consisted of 14 breaks of serve and swung back, forth, back, forth, with Dimitrov leading the way. In fact, Dimitrov looked ready for the win at 7-6 5-2, but couldn't get it together, lost four straight games, got himself into another tie-break, which he in the end also lost. It was a set of plenty of squandered opportunities and that had taken a toll mentally. The third set went by in strange blur filled with Dimitrov's racquet smashing. The Bulgarian had cramps, started making mistakes and in the end forfeited the match at 0-5 down due to excessive racquet smashing. He actually asked the umpire if he would forfeit the match if he smashed yet another racquet and when Layhani said yes, he broke another frame and shook hands. In the price ceremony he apologized for his behaviour, but it was a strange spectacle, especially for a final.
But a big congrats to Diego Schwartzman who played excellent tennis all week and is well deserving of his first ATP tour title.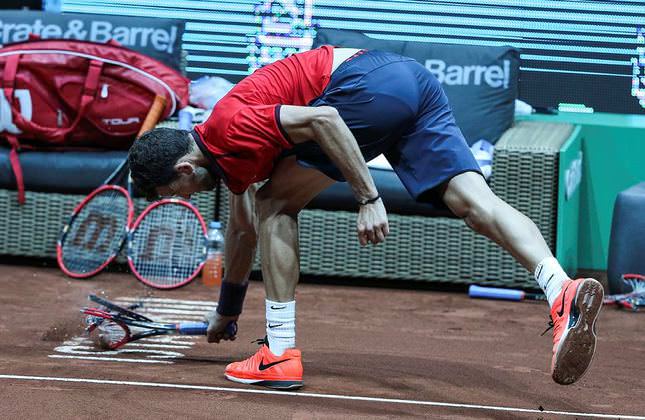 ATP 250 final BMW Open Munich
Dominic Thiem has had a fantastic year so far and was my favorite, despite Kohlschreiber's brilliant result in Munich previous years. It was a great match with lots of spectacular rallies, drop shots, hot dogs, beautiful one-handed backhands and more. Kohlschreiber was in the lead for most of the match and had a few match points before he could finally clinch his third title in Munich with 7-6 4-6 7-6. It bodes well for the rest of the clay season that entertaining players such as Thiem and Kohlschreiber are in good form.
ATP 250 final Estoril Open
I thought Carreno Busta would win the title due to Almagro's mistakes, but instead it was Almagro's experience playing finals that triumphed. It was another tight match, but in the end Carreno Busta looked more tired mentally and Nicolas Almagro got his 13th title 6-7 7-6 6-3.
Summary
Three great clay court finals (if we ignore some of Dimitrov's childish behaviour in the end of his match) and Madrid Masters is starting for "real" tomorrow (Verdasco and Dolgopolov won today). No wonder this is the best period in the tennis season. Viva clay!