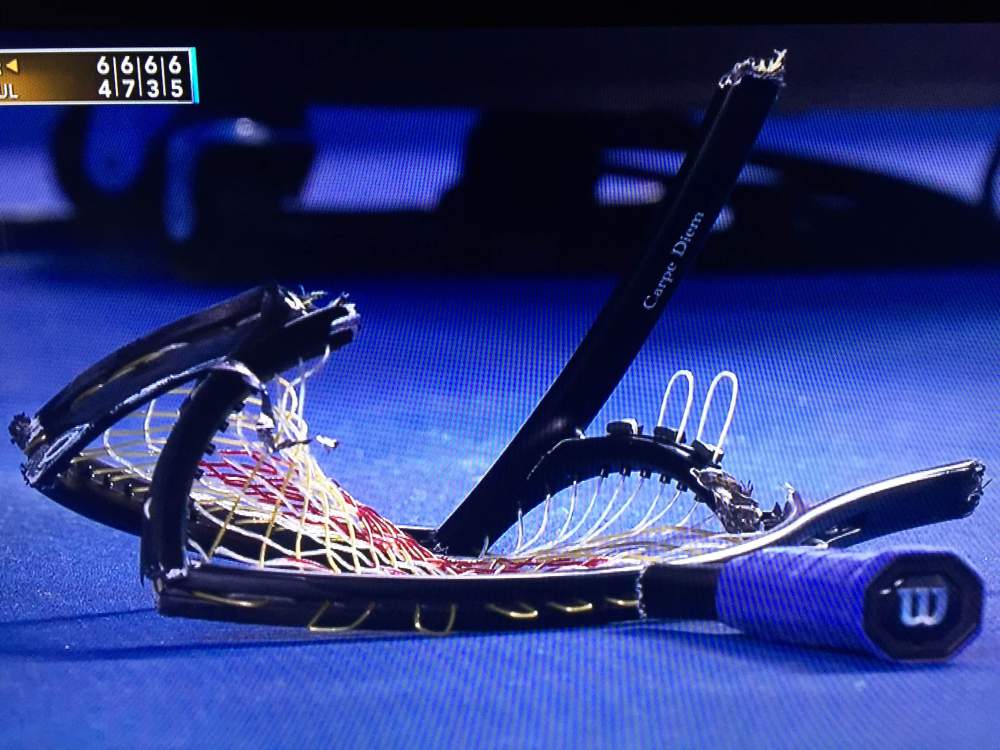 Watching a re-run of Dimitrov losing his cool and later on the match (after the last ball clipped the tape and landed on Dimitrov's side) reminds me that tennis is a cruel sport. Giving you're all for 3,5 hours and playing spellbinding tennis along the way, just to stumble on the finish line. It's sport and life captured in one moment.
Obviously, winning must have felt pretty sweet to Murray who upped his game immensely after being down 2-5 in the fourth set and in typical style, hardly made a single error in the last 5 games that led to his victory. Congrats Murray, curtains Dimitrov.
As you racquet aficionados might notice from the image, Dimitrov has "Carpe Diem" inscribed on the inside of his frame. A place usually reserved for the player's name. It's a slightly cheesy reminder to give it your all, which he did, although this time it simply wasn't enough.
What else from Aus Open so far as Tennisnerd has been quiet? (Time has been my enemy and excuse). Well, lots – and here are my quick list:
* Fed Express had an "off-day" against Seppi and the crafty underestimated Italian won in the end, crushing the hearts of the millions of Fed fans expecting a deep run or possibly even an 18th grand slam. He'll be back in Dubai in February, but the next slam he has a chance to win is Wimbledon.
* Nadal had a severe scare against 142-ranked American Tim Smyczek and looked sick for parts of it. But like so many times before he won in the end and afterwards he's seemed like his old self.
* Ferrer leaves everything on the court. Against Simon he also left a lot of bloody socks after severe foot blister. Hashtag fighter.
* Djokovic. Wins. Snooze.
* Kyrgios is a fiery guy and after five sets against Seppi he's in the quarter-finals. Impressive for a 19-year-old.
* Berdych looks strong. Snooze.
Still thinks Djokovic will lift the crown. Kinda snooze that too. But happy that the tennis season is under way again. For real!