The French Open has been postponed one week according to a ATP/WTA statement today. It's in context of heightened COVID-19 restrictions in France.
Seeing the headline "The French Open postponed" takes you back to 2020 and the height of the pandemic. The tournament was then postponed to September and played under strange and cold conditions, with one familiar outcome – Rafa Nadal won. This year, the event will only be postponed one week (at least as things stand currently), and will be played from 24 May to 13 June 2021.
How does this affect the rest of the tennis tour and the calendar? It means the tournament will play into the grass court season and at the same time as tournaments like the Mercedes Cup and Hertogenbosch. It can also impact certain player schedules and some players, like Alize Cornet, have expressed some outrage around the decision to postpone the French Open.
The ATP and WTA Calendars
You can see the WTA calendar from now until Wimbledon below.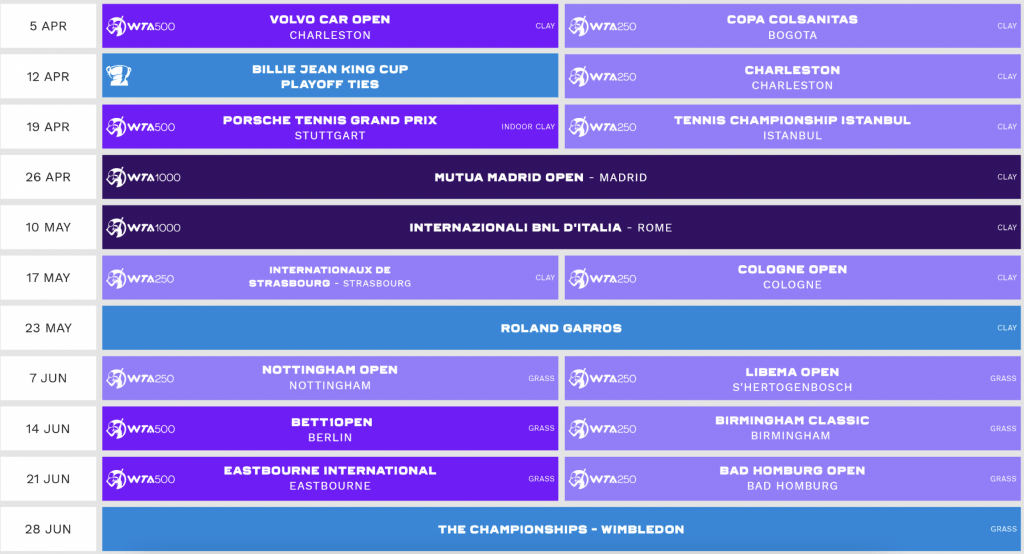 And you can check out the ATP Calendar in pdf format by clicking the link. Let's see if we soon hear further changes in the calendars of the professional tennis tours. Covid has not made it easy for the two organizations to get professional tennis going with reductions in prize money, tournaments cancelled, player relief packages, ranking system changes, and more. I think we should be lucky that we have been able to watch tennis live on stream, because for players and organizers, it can't have been easy and many have reportedly struggled and lost appetite for playing due to the so-called bubble life.
We will keep updating Tennisnerd as soon as the situation changes. Until then, we just have to look forward to the French Open, just one week later.
What do you think of these changes?