We are now in August and as Federer fans are licking their wounds from a rough Wimbledon final loss, we can start speculating what will happen during the U.S. hard court swing. Starting with Coupe Rogers in Montreal, Canada, we embark on the Road to the US Open. These are my tennis predictions.
Last night Nick Kyrgios won the ATP 500 in Washington, D.C. and looked almost as good as he was when he won the Acapulco 500 earlier in the year. The last few months have been more about his disliking of Novak Djokovic and his lack of commitment than how good his tennis can be when he feels like playing. In D.C. we saw this again and he ended up lifting the trophy. Does he have a strong place in the Road to the US Open or will we see another shift in his performances? If you like to bet on tennis, check out MyBookie.
I like watching Kyrgios play and I enjoy seeing a different perspective, style, and personality around the courts. Tennis arguably needs guys like Kyrgios to spice things up for the non-die-hard tennis fans, because when the three greatest players of all time decide to retire, the ATP will have some sweaty years trying to maintain interest in the sport. It will be a tough period, and it will not get easier by introducing the "Next Gen", which only seemed to harm the new generation of players more than do them good. Toni Nadal has argued that it put too much weight on their shoulders too soon and I agree. I hope ATP decides to hang up the Next Gen idea and find other ways of driving interest around the sport and its up-and-coming players.
The Road to US Open – Can Roger Federer Win Another Slam?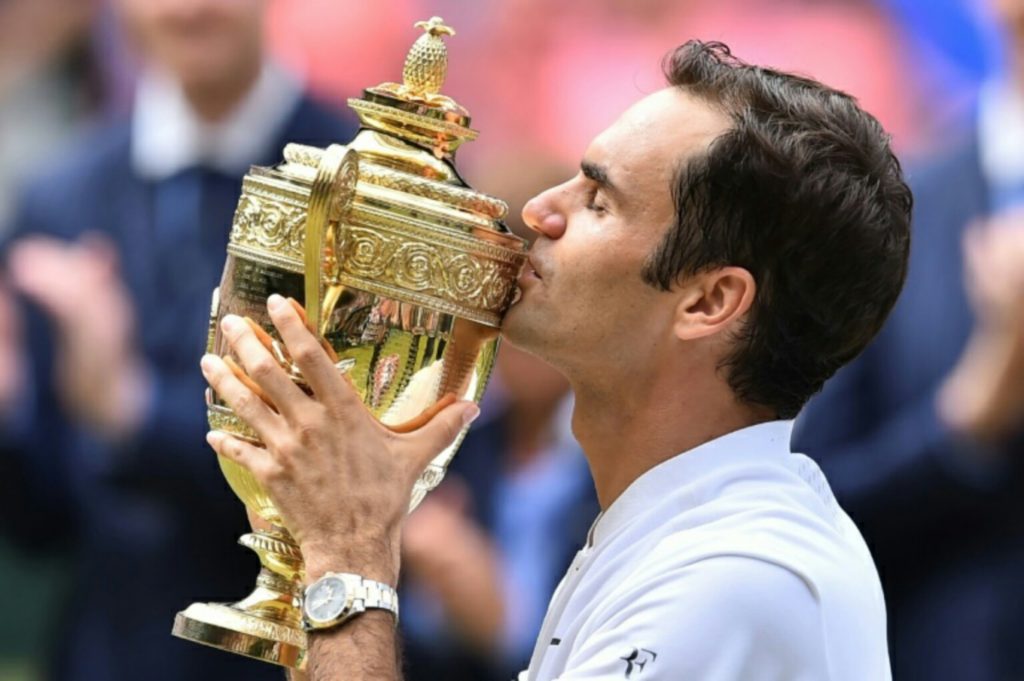 After failing to convert two match points on serve in the Wimbledon final, I am sure Federer has been taking some well-deserved time off to recharge his mental and physical batteries. Federer has opted out of Rogers Cup and Novak Djokovic has followed suit. It is apparent that Novak is getting better at his scheduling and seems intent on only peaking when it is absolutely necessary (Grand Slam time). The Grand Slam record is definitely up for grabs and I am sure Novak wants to give it his all. The same goes for Federer of course and the good thing is that that might postpone his retirement even further.
The question is now, after that final wobble on the finish line, can Roger Federer win another slam? Well, he is definitely good enough and seems to put himself in the position over and over again. My guess is that he can win one more Grand Slam, but that he needs a good draw. Overcoming both Nadal and Djokovic is the most difficult thing in tennis and although he was close, (so close!), the odds are that he won't be able to do it again. He will be a contestant for the US Open title, but this has been his least successful slam in recent years and I don't think he will win it.
The Road to US Open – Djokovic GS title 17?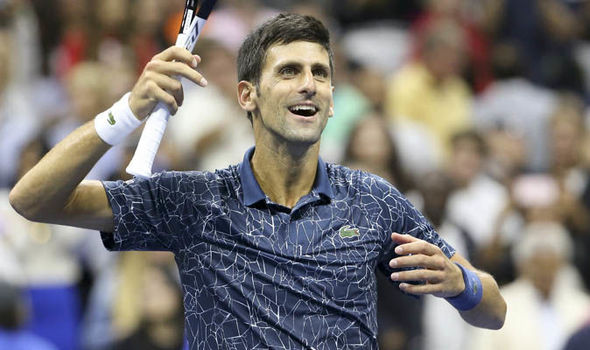 Novak Djokovic has won the last four Grand Slams except for the French Open. He looks more dedicated than ever to chase down that Grand Slam record. But he needs to keep winning them. Now he is within striking distance (2 slams) of Rafael Nadal at 18 slams and a win at the US Open will put him only one GS title behind! This will surely be fuel in his engine. The confidence after winning another Wimbledon title, especially considering he did not seem to play his best tennis. But he is possibly the strongest player mentally in the history of tennis (tied with Nadal) and he finds ways to win that many deem impossible.
That is why I will put Djokovic as the strong favorite for the US Open title. I am not going out on a limb here I realize and I am sure the bookies will feel the same. I checked out the odds of the US Open winner from Leo Vegas and the list looks like this: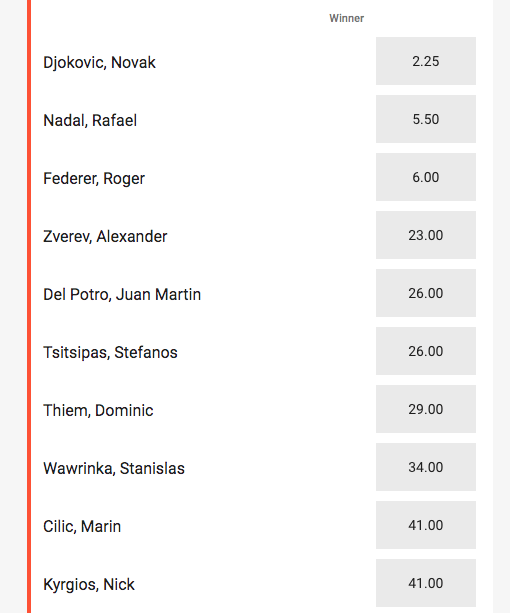 Yes, Djokovic is the obvious favorite and no one can be surprised by seeing Rafa and Roger at position 2 and 3. But Zverev is struggling heavily this year and has just "broken up" with coach Lendl and Del Potro's health is always a question mark. The only three guys on this list that could be a challenge to the big three are Tsitsipas and Thiem. Cilic won the US Open in 2014, but I don't see how he could find that crazy form once again. On number 10 on the list we have Nick Kyrgios at 41 times your money. He could win the tournament if he could consistently find the form he sometimes does for a week. But a two-week tournament over five sets? Highly, highly unlikely. Although it would be kind of fun if he won.
The Road to US Open – How do you see this part of the season play out?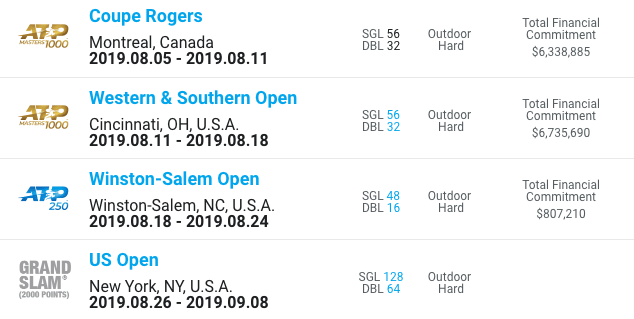 Now I am curious to hear what you think? Will Djokovic win another title or do you believe in Rafa or Roger? Or maybe you have a completely different favorite in mind? Please comment below!