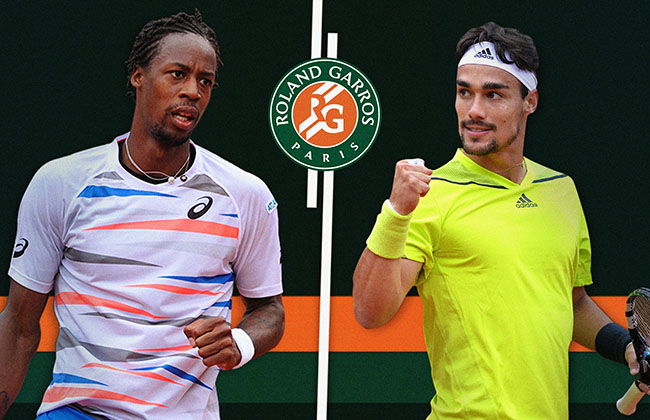 Image from Roland Garros official website.
So far we haven't been disappointment in the drama department of Roland Garros with plenty of upsets, tricky weather conditions, and some very good matches. Yesterday was no exception with two interesting five setters – although they were interesting for very different reasons.
Dudes of drama: Foggy vs Le Monf
Tennis fans have a hard time forgetting the Fognini vs Monfils spectacle in 2010 where the cocky Italian was booed off the court at one point, but managed to win it the next day. Four years later Monfils got his revenge in a topsy-turvy affair that went: 5-7, 6-2, 6-4, 0-6, 6-2.
This article at Sports Illustrated talks about an entertaining match with some bouts of low quality tennis. I quote the stats from SI:
Stats Monfils vs Fognini
"24: Break point chances Fognini saw over five sets, converting just nine.
1: Point penalty received by Fognini in the fifth set after throwing his racket and almost hitting a ball boy. He received a code violation just a few games into the match for an audible obscenity.
24: Minutes it took Fognini to win the fourth set 6-0.
6: Points won by Monfils in the fourth set.
2: Medical timeouts called, one for each player.
4: Forehand unforced errors hit by Fognini to get broken at love in the final game of the match.
137: Combined unforced errors."
The unforced error count is always debated in tennis. What do they really count as an unforced error? 137 unforced errors does sound like a LOT, but remember that Monfils won 6 points in his tanking fourth set and Fognini looked less than interested in participating in the 5th after going a break down.
Two guys with lots of talent but with their heads sometimes not screwed on tight enough to execute.
Monfils said it best in the post-match interview:
"For me, it's not about ups and downs. It's more about saving my ass every day [laughter]."
Well he saved his ass to survive at least another round. Fognini will go back to Italy to work on his charm (or maybe not). This is what he said to a woman in the crowd (she was late) according to Italian journalist Chiara Gambuzza:
"Sit down,you horrible goat."
And I don't think he meant GOAT as in Greatest Player of All Time.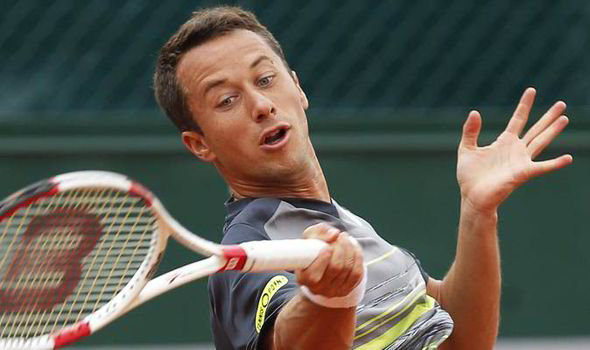 Great tennis, high drama, suspended play
The next five-setter was Kohlschreiber vs Murray where I had Mr Coalwriter as the upset winner. He's a great clay-courter with those huge top-spin shots and has beaten Murray before so it wasn't a completely crazy prediction.
This match did provide drama along with a very high quality of tennis and some intense fighting. Each break seemed to come with a break-back and you could never count the other player out despite the score.
Kohlschreiber played aggressively and moved in to the net after which he either got passed or caressed winning volleys. His one-handed backhand was working well and both players hit a fair share of winners. Murray was up 2-1 in sets and a break when Kohli broke back and the German was up a break in the 5th set when Murray broke back.
Intense!
In the end the match got suspended because of darkness at 7-7 in the 5th. They will finish the match today and Murray will start serving. Will it be a two-game quickie or a 18-16 monster affair?
Watch all the livescores here at Tennisnerd.