The app Swingvision offers real-time video analysis and coaching using just an iPhone*. This is how you can try Swingvision for free.
I have been using Swingvision for a while and I'm really impressed by its features. It cuts out all the dead-time during hitting sessions, sorts them into the categories like "5 Most Tiring Rallies", "Jonas' forehands" and so on. It gives you the percentage of shots hit inside the lines, the average shot speed, shots beyond the service box, the longest rally, rallies with 5-8 shots, and rallies under 5 shots. Shot distribution, spin distribution, you name it. Swingvision is a highly interesting tool to analyze your tennis. Get a free 30-day trial of Swingvision Pro using my link and see if it's something that can benefit your tennis.
I am going to try to implement it into my reviews and see if certain racquets make me hit harder with more consistency. Maybe it will be a way for me to add more data and a more objective analysis of what a racquet does to my game. I will give it a try at least because I have wanted a tool like that for a long time.
Swingvision was the app of the day in November 2020 and was featured in an Apple Keynote in the Fall of 2020. It's backed by high-profile tennis players like James Blake and Andy Roddick.
*You can also import footage from any camera (e.g. GoPro) for processing after recording.
Swingvision features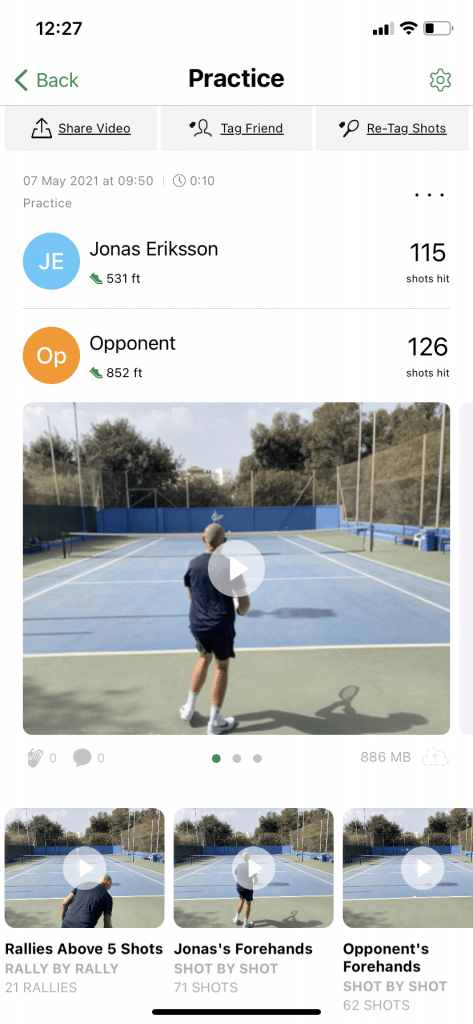 Automated shot tracking
Trim points and create highlight reels
Track 1st/2nd serves, winners and errors
Challenge line calls in real-time (2021)
Automated video analysis
Stroke type, spin type and ball speed
Shot placement, contact and rally length
Footwork, posture and positioning
In mid-2021, Swingvision will include A.I. Umpiring, bringing you automated scoring, match stats, and line-calling.
How much does Swingvision cost?
Swingvision has three different user modes.
Basic gives you 2h per month of shot tracking and video analysis and doesn't cost anything.
Semi-Pro gives you a 10h per month and costs $59.99 per year
Pro gives you 60 h per month and costs $119.99
I'm a pro user myself and if you want to try it, get a free 30-day trial of Swingvision Pro through my link. If you decide to stay with Swingvision Pro, Tennisnerd gets a small commission, but you can cancel anytime during the trial period.
What do you need to use Swingvision?
They are working on Android, but for now, you need an iOS device like a Macbook, iPad or iPhone. I record with my iPhone mounted to a Functional Tennis camera mount on the back fence. My tripod doesn't get up quite high enough to get the angle right. You can also import your regular camera footage or GoPro footage into the Swingvision app.
Is it worth it?
I really like this product and believe in upcoming features like line-calling, match stats, and automated scoring to really revolutionize the sport for many club-level players. Imagine having an automated line calling for your local tournament? No more arguments about line calls or questionable sportsmanship.
I will do a full-on review after I've used it more, but for now, I'm genuinely excited about this product.
What do you think of Swingvision? Is it something you imagine yourself using?