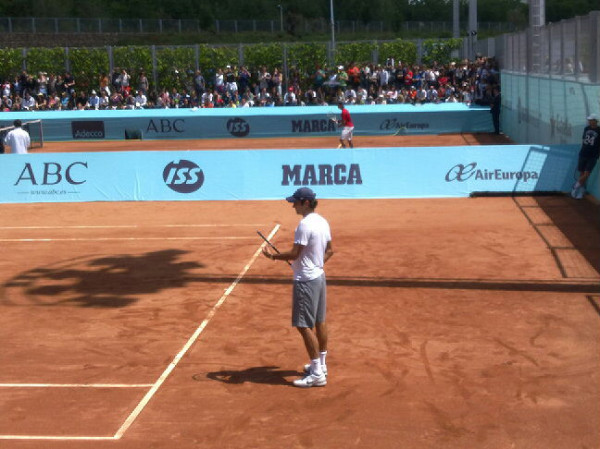 Federer and Nadal on adjacent practice courts. Please put them on a match court as well!
At the time of writing Afro Murray has just lost the first set to Bellucci and we're seeing how Murray's passive playing style can be a problem against guys who can control the court like Bellucci can when he is on his game. Lot of tennis left though of course.
Side note: I think Murray is trying to grow his hair enough to have dreadlocks and become Rastamurray.
On another court the two giant mega hitters, Tsonga and Soderling is battling it out and Soderling took the first set 7-6 after a nail-biting tiebreak. Tsonga fell in the break and it looked pretty bad, but Soderling didn't pay him much mind or ask him how he was. The Swede is likely not the most liked player on the ATP Tour.
Federer had a better day against Malisse beating him handily 6-4 6-3. If the Belgian had a better level of fitness he would probably have been a more dangerous force on the ATP Tour. All the Fedophiles in the world where probably scared that Federer would lose against Lopez, but after throwing up a lob that Lopez smacked one meter out at 2-5 in the deciding set tiebreak the tides turned in Federer's favor and he ended up winning 9-7. Hopefully he can build on the confidence of getting through that close call. But for us fans it's getting more and more obvious that he's perhaps not the player he once was.
Nadal and Djokovic are both streamrolling the field – the Spaniard looking determined to win yet another clay title. These guys are now the main rivalry, that's pretty clear, even for me a diehard Federer fan.