Yesterday I covered some matches from US Open live on YouTube together tennis friends and the so called popcorn match of the eve was Federer vs Youzhny. A match that raised some concerns.
Most of you who follow tennis already know that Federer won, but it's the way he won that is slightly troubling for Federer fans. The US Open has already suffered quite a few upsets and players opting out due to injuries, having the favourite on paper, Federer, lose early would be another big shock to the tournament.
After the first set, which Federer won easily 6-1, all of us in the studio, thought that Federer was going to win in straight sets without any trouble at all and we prepared to transfer our attention to some other match. His 16-0 head-to-head against Youzhny was of course top of mind there and Federer is rarely given any concerns by players of his own generation.
But in the second set Youzhny fought hard and Federer started looking less and less confident on finishing of points. He missed several "sitters" and seemed frustrated at his own inability to reach his standard lofty level at times. And despite being up a break in both sets 2 and 3 he found himself down two sets to one and fighting to stay in the tournament.
At that point you had to start wondering what was wrong with Roger. There has been a lot of talk about his sore back ahead of the tournament, but he has still been the overwhelming favorite to win with the bookies .The match against Tiafoe wasn't a confidence boost in any way with Federer looking slow and nervous and missing some shots with quite some margin.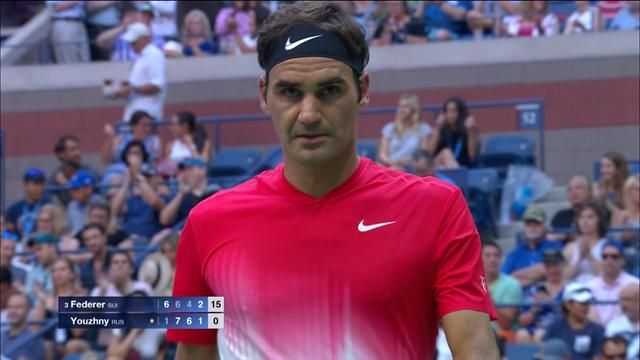 Whether there is a problem with his back or with his general confidence is hard to say at this point. It is possibly that his thoughts of winning a third slam and becoming number one again is weighing on his head and making him more nervous than usual. This is what he said after the match:
"I'm better than the first round, so I'm happy," Federer said. "This match wasn't about the back, which is good. This is more just a grind. I felt different, completely different, the way it played and everything. But I'm really, really happy I got through."
Federer remained level-headed in his comments about his performance, but tried to be positive about the challenges to come:
"My preparation hasn't been good at all here. I knew I was going to maybe struggle early on. Maybe I struggled more than I would have liked to. But I'm still in the draw, which gives me a chance. 
"I still believe I'm going to pick up my game and become just more consistent because I'm not playing all that bad … With a bit of fatigue, that's OK. I've done that hundreds of times. That's not something I'm too concerned about."
Federer also added some humour to the situation after his match.
KA-BOOM
?????? https://t.co/m2lUrO7HFL

— Roger Federer (@rogerfederer) September 1, 2017
It will be interesting to see what Roger Federer will show up in his next match as this year's US Open. What do you think about his upcoming chances? Please comment below!
PS. The live broadcast from US Open was broadcast here live (in Swedish). If you're interested in watching more video material (in English) from Tennisnerd, please write in the comments below DS.