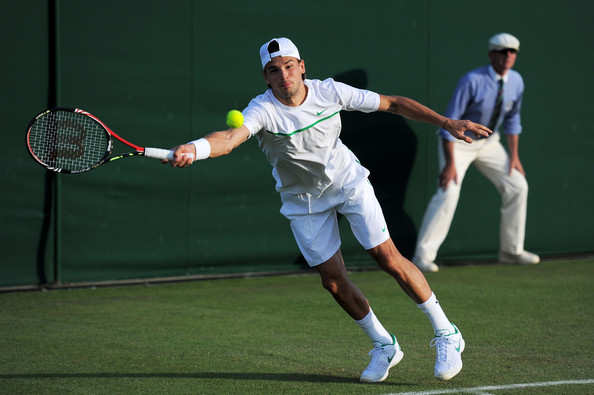 Tomorrow it starts, the flagship of tennis events, the mecca of our beloved sport – Wimbledon.
Since lots of sites make lots of predictions, I want to be brief and focus on the most interesting areas of this year's Wimbledon. Here are my 5 favorite topics to watch for Wimbledon 2012.
1. Federer. As most readers of this blog knows, I'm a Federer fan and I'm of course both curious and hopeful about his chances of holding his seventh Wimbledon trophy and his 17th Grand Slam trophy. Many hold him as favorite because of the rather good season he's had so far (no slams, but several titles and a great match record) and his love for the low-bouncing surface and with Federer that's never completely crazy, despite him not having won a Grand Slam since Australian Open 2010. Djokovic and Nadal will be very tough to beat in five-setter, but I think feel that their chances are around 1/3 equal for the trio.
2. Nadal. Rafael Nadal won French Open and looks happy to be on a tennis court again. He seems to have killed the Djokovic ghost and for me he is the ever-so-slight favorite of winning his 12th Slam and his third Wimbledon title. His warm-up in Halle wasn't a success (losing to Kohlschreiber in his second match), but for Nadal I don't that matters so much. What matters is his forehand and if he can keep hitting it like he did in the French Open, with that amazing power and pin-point precision – I think he'll take it.
3. Djokovic. Novak Djokovic is still a monster on the tennis court, he still has a huge chance of defending his title, but he's not exactly the same beast as last year. He seems more easily frustrated, maybe expecting too much, maybe not moving quite as well. Something makes me doubt him a little more this year and I think he will lose a possible Federer-semi despite beating him in three straight sets at Roland Garros. I actually even think he might fall out before that if someone really inspired comes his way.
4. Dimitrov. (top pic) Youngster Grigor Dimitrov is a new favorite of mine. His game is very similar to Federer (eerily so), a bit more choppy but with an added spring in his step. He's been improving his game this year and had a good grass court warm-up in Queens and I hope he'll go far in Wimbledon.
5. Roddick. I was never a big fan of Andy Roddick's game, but my heart went out to him when he played a fantastic match against Federer in 2009, only to lose 16-14 in a marathon fifth set. He's been off his game for most of 2012, prompting reporters to ask him if maybe it's time to retire, but yesterday he won the title in Eastbourne and on grass he's always dangerous. He really deserves a solid run in Wimbledon and since he's played three finals there already, I wouldn't mind him doing an "Ivanisevic" and winning the title as a dark horse.
Also watch out for:
Milos Raonic – the big-serving Canadian is a threat for anyone on grass. Warning top players! ; 
Tomas Berdych, John Isner, David Ferrer, Andy Murray will be tough to beat as well – but in my mind they aren't title contenders. Not even home-boy Murray and world number four, Andy Murray.
See the Wimbledon draw here
Let Wimbledon begin!