Injury problems plagued an otherwise nice first day of tennis at Wimbledon 2017. My draw predictions got hit badly when Wawrinka and Kyrgios left the tournament early.
The player of the day was young Daniil Medvedev (read about his Tecnifibre racquet here) who looked very confident in his 6-4, 3-6, 6-4, 6-1 win against Stan Wawrinka (and his Yonex racquet). The Wimbledon twitter account posted that "the next generation is here" but I would wait a bit with those kind of statements considering Wawrinka had a knee that troubled him throughout the match and one win needs to be backed up for it to truly matter. But Medvedev has a great game and with his next match being against qualifier Bemelmans, I'm sure he can go further.
Another Yonex man (read about Kyrgios racquet here), Nick Kyrgios, was a question mark ahead of the tournament and had to pull out at two sets down against Pierre Hughes-Herbert. A hip injury bothered him and this is what he said about it:
"I have been feeling it ever since I fell on it at Queen's," the 22-year-old said. "Never got it right. I spoke to the doctor before the tournament started. He was leaning towards me not even playing."
Tommy Haas was playing his last Wimbledon, but couldn't find his form and fell in four sets against earlier mentioned Bemelmans while both Andy Murray (read about his racquet here) and Nadal (Babolat Pure Aero) won convincingly and look to be in good form for the rest of the tournament. Same goes for Jo-Wilfried Tsonga and Marin Cilic who both outclassed their opponents in the first round.
Another player known for his often frail and injury-prone body is Kei Nishikori, but he got through the first round easily. One match that WASN'T easy was Bedene's win against Ivo Karlovic. After four tie-breaks, the only break of the match came at 7-6 in the (long) fifth set where Bedene managed to break the mighty serve and win.
Otherwise there were mostly expected results on the first day of Wimbledon and in summary I got six of them wrong in my Wimbledon Draw predictions of the first half of the draw. 1 means the guess was correct, 0 means I got it wrong. If you're into predictions or tennis betting, you can check out this page. If you want all the scores and results from the first day of Wimbledon, check out the official page.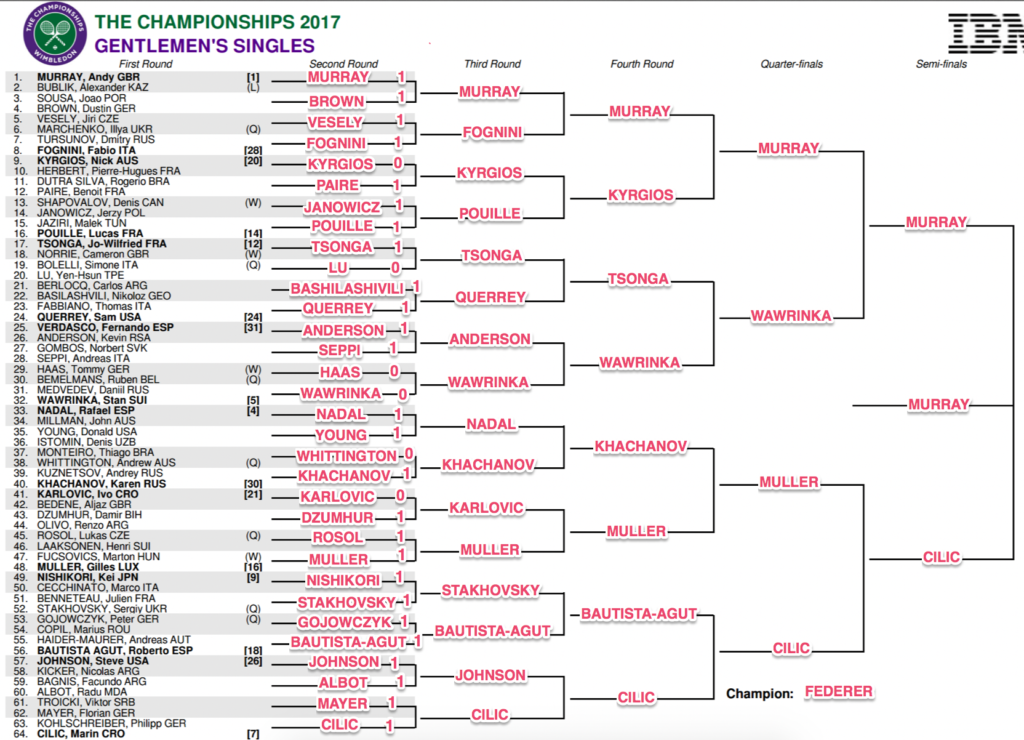 Here are my predictions for today's matches with Federer and Djokovic in play. Can they show strength in their results similar to what Murray and Nadal did?