The strange trend of retirements persisted in day 2 of Wimbledon 2017. My draw predictions got hit badly a few times when in-form players left early.
Both Roger Federer (read about Roger's racquet or brand) and Novak Djokovic (read about coach Agassi or Lacoste sponsorship) got an easy pass into the next round when Martin Klizan (he tried the new HEAD MxG earlier in the season) and Alexander "The Dog" Dolgopolov both retired in the second set. There has been some talk about giving a fine to players who play Wimbledon when they're already nursing an injury and I think it's a good idea because it is not very good for the audience and the tournament when players retire during a match.
A player that retired mentally during his match against Mischa Zverev is Bernard Tomic and in the press conference he got some comments about it that he answered with: "I was bored." Are you allowed to be bored during the first round of arguably the biggest tennis tournament of the year? Judging by the comments from readers and viewers, you're not! Yet, I think a lot of players struggle with the willingness to do battle, but maybe no one as infamously as Tomic.
What do you think of Bernard Tomic's press conference? Please comment below.
There were two more retirements on the men's side: Feliciano Lopez (read about his racquet here) and Janko Tipsarevic. Tipsarevic pulled a muscle just before the match and Lopez I'm not sure about. I thought he would be a threat with his win in Queens, but it seems like a lot of players are already worn out from the clay court season when they enter the grass?
Yuichi Sugita and his Babolat Pure Drive kept up the form with a win (he won in Antalya last week) and is a formidable grass court player. American Ryan Harrison toughened out Borna Coric in three tight sets, Jack Sock got it done in four against Garin from Chile and Frances Tiafoe beat Robin Haase on a very good day for American players (Isner also beat Fritz).
The best match of the day was between Juan-Martin Del Potro (read about his racquet here) and Thanasi Kokkinakis. A really well-fought contest that Del Potro won in four sets.
My draw predictions for Wimbledon 2017 hasn't been great to be honest. I thought highly of Gasquet, as you can see below, but Ferrer (lots of comments about his blacked-out Wilson racquet) played the best tennis from him I've seen in a long time and won relatively comfortably. This is what I ended up with in the end for Day 2 of Wimbledon predictions: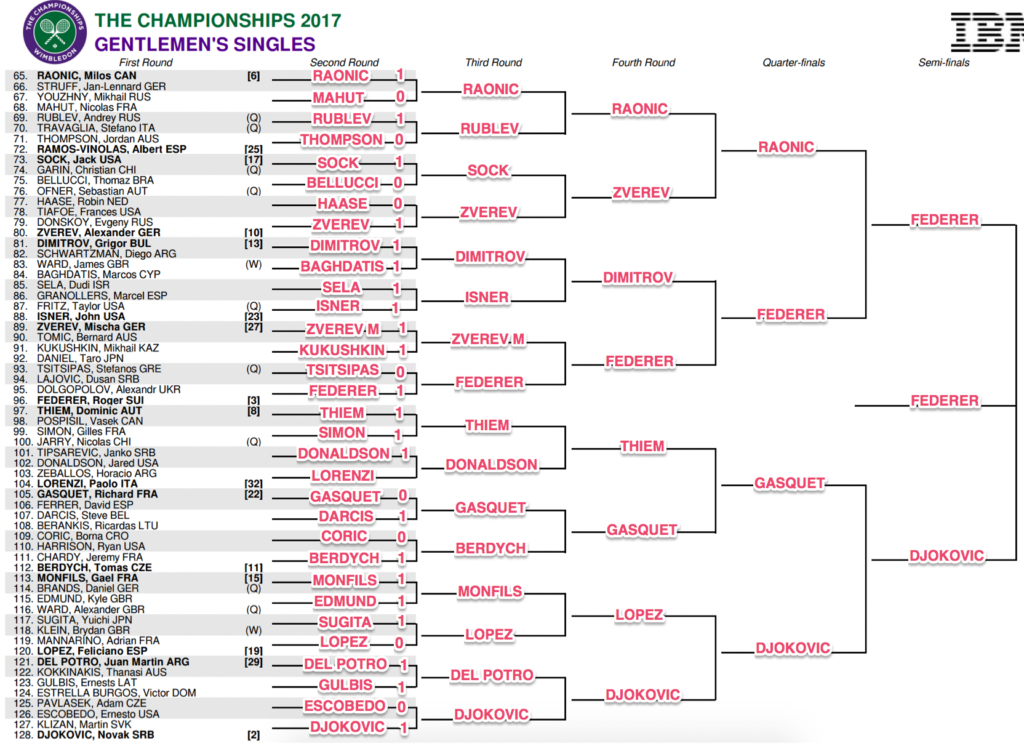 Nothing to be particularly proud of and far from my French Open 2017 and Australian Open 2017 predictions and definitely nothing that will give me any confidence in my Wimbledon tennis betting.
Are you surprised by the results in Wimbledon 2017 so far? Comment below!