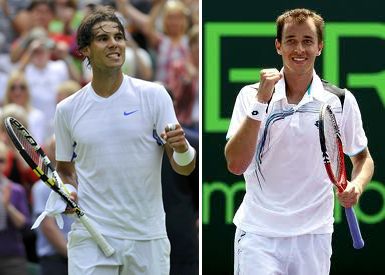 Exactly how it happens we will never know. It was just one of those days when almost every shot you hit feels so, so good and somehow manages to catch the line. World #100 Lukas Rosol had the day of his life and #2 Rafael Nadal had his worst Grand Slam performance in seven years, resulting in a 6-7 6-4 6-4 2-6 6-4 win to Rosol.
What impressed me the most was Rosol's consistent strategy and the way he closed out the match where most people wouldn't have been able to put a serve in play. Instead Rosol smacked down ace after ace, winner after winner, and won the eight last points on serve in the fifth set! It was simply spellbinding to watch his play. He went for every shot and he made MANY of them.
Rosol must have realized his only chance to win was to go for broke, to hit as hard as he could and hope for the best. And it worked – Nadal was rattled early, never managing to get his rhythm through the onslaught of thundering groundstrokes and serves. Even Rosol's volley game was amazing, moving in and closing off points effortlessly.
Nadal even complained about Rosol's behavior at one point, the 11-time Grand Slam champ visibly frustrated about not being able to impose his normally so imposing game on his far less experienced opponent. In all fairness, the only thing Rosol did was move about a bit before receiving serve and it was more a show of how affected Nadal was by his play, than unsportsmanlike conduct.
For Nadal fans you just have to simply think back to Roland Garros with a smile and tip the hat towards Rosol and an amazing tennis performance. There weren't a lot Nadal could do a night like this. For Rosol fans and family, enjoy this, savor it and hope the tennis magic will return for his next match.
Congratulations Lukas Rosol!