Many tennis fans also play padel and pickleball. So here is Richard Bancroft with a Dunlop Aero Star Pro Padel Racket Review.
Dunlop Aero Star Pro Padel Racket Review
Summary
This racket is for the advanced and professional player that likes an attacking game. The diamond shape provides a larger sweet spot generating a good amount of power through all shots, especially on the smash. I found it easy to kick-smash the ball out of the court. The technology in the racket meant it also had good maneuverability despite it being a heavy racket. The rough surface helped generate good amounts of spin that really helped on the touch volleys as well as generating topspin on the kick smash.
Design
The racket has a very moody design of black and red which looks great. Reminds me a little of the black mask and red lightsaber of Darth Vader. This racket is a very popular choice amongst advanced players given its good all-round performance, great looks, and with a little shopping around a great price point.
Comfort
Although this is a heavy racket, I had no problems with comfort. The racket was light enough through the air and, given the high weight balance, had great plow-through on all shots. It also has a comfort strap which helps on the wrist.
Would I buy it?
In a word….yes. I play both sides of the court depending if I'm playing men's or mixed, and this racket performed very well for me on both sides. On the right side, it had great control and spin, but on the left, it provided me with plenty of power to attack. As an attacking player or for playing both sides, I would definitely consider this racket. If you are just a right-sided player, I would look for a more control-orientated racket with less easy power.
You can check out the Dunlop Aero Star Pro at Total Padel
Overall Rating 4/5
Tech Specs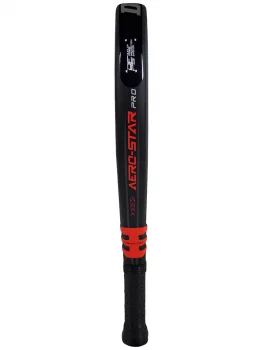 HEAD SHAPE – Diamond
WEIGHT (G) – 370
BALANCE – High
THICKNESS/PROFILE (MM) – 38
CORE – Pro Eva