Our pickleball reviewer, Rush Walters, is back with a HEAD Gravity pickleball paddle review. You might know this name from tennis racquets!
HEAD Gravity Pickleball Paddle
In the hunt for a pickleball paddle? Check out our other reviews here.
Specifications
Head Dimensions (Length x Width): 15.75 in. x 8.1 in.
Paddle Thickness: 14 mm.
Grip Length: 4.5 in.
Standard Weight: 8.1 oz
Paddle Material: Polymer
Notable Features: Graphite/Composite Surface
I have long been a fan of the tennis brand HEAD. As you can see in the picture below, I lined up all my tennis racquets next to Head's Gravity paddle. For the most part, I have always used Head racquets throughout the game of tennis. I admire paddle/racquet companies expanding their products in the pickleball world. They are taking the leap of faith. They are reputable companies expanding their business; Stiga goes from ping pong to pickleball, Head going from tennis to pickleball, etc. I have also heard that Gearbox started with racquetball racquets. Reviewing a Gearbox pickleball paddle is on my to-do list!
I was initially excited when using Head's Gravity paddle because I have long trusted Head's tennis racquets. I was not too surprised that the Gravity prides itself on having a large sweet spot. The large sweet spot reminds me of my first tennis racquet: the oversized liquid medal (the black racquet on the far right in the picture below). The larger sweet spot on the Gravity provided more stability and power.
Powerhouse
Power is the name of the game when it comes to the Gravity paddle. According to totalpickleball.com, the paddle "…offer[s] the largest sweet-spot HEAD's ever created." That being said, my control declined when I gave it too much physical power behind my swings. In my opinion, with many paddles, you sacrifice control for power. With great power comes great responsibility in controlling your shot. I do not mean to quote Spiderman, but finding a paddle with a great balance between control and power is hard. Therefore with the Gravity focusing on power, you need to be responsible with your shots and go for the smart strategically placed shots, do not get greedy with the amount of power that the Gravity offers. Gravity receives 5/5 on power and 3/5 on control due to the factors above. The paddle also received a 3/5 for maneuverability due to its larger Head that provides the larger sweet spot, its Head's 14mm thickness, and it weighs 8.1 oz. I have played with other paddles that are much more maneuverable, but it does get around for as big as it is.
Soft touch, dinks, and deep shots all received 4/5 because although they delivered, the paddle's ability to control the ball affected them all. As for spin, it also received a 3/5 primarily because although it does offer spin, its sole focus is not spin. Its spin features are a plus, no doubt, but its primary objective is power, not spin. Therefore its spin features are secondary/sub-par to its power.
The soft-touch was great, but I noticed that I had to fine-tune my physical power behind my swing, not too soft of a hit. For soft touch, I am not wanting to hit it hard necessarily because I am trying to softly touch it for drop shots at the net therefore, I gave my dinks power but only a bit. Deep shots gave me almost the opposite result. I could not hit it too soft nor too hard; I had to find a suitable medium. That being said, I could still maintain a decent amount of control with some of my hard deep shots. I appreciated the paddle's ability to allow me to put power to them and still have a decent amount of control to place my shots strategically.
Performance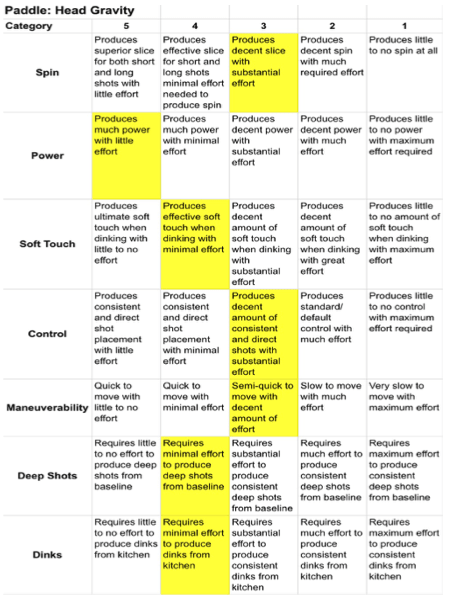 Time Tested:__4+hrs____
Date(s) Tested:___8/31,9/8___
Final Grade: 26/35 74% C
Grading Scale:
A 100-90%
B 89-80%
C 79-70%
D 69-50%
F 49-0%
Conclusion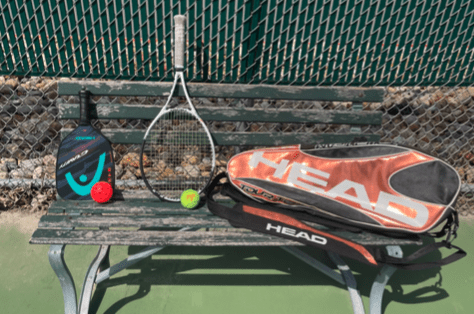 Head's signature equals a larger head, a larger sweet spot, and a larger amount of power; classic. The Head Gravity paddle put the pedal to the metal when it came to power. I recommend this paddle to the intermediate player because you need to know how to adjust your swing and dinks to the amount of power this paddle offers. Not saying that a beginner couldn't start with this paddle and learn as they go, but when using it in a pick-up game, I'd recommend it for players with some experience. I enjoyed HEAD Gravity's power and look forward to using it in future games.
You can check out the HEAD Gravity pickleball paddle at our affiliate Total Pickleball