Pickleball or tennis is obviously a rhetorical question. Of course, you pick tennis! But pickleball is the fastest-growing sport in the US.
Should tennis players be worried? Maybe. I've heard and seen data suggesting that tennis balls are being replaced by pickleball courts in the US. The sport is growing faster than any other sport in history. But what is pickleball and why is it so popular?
Pickleball is a racquet sport (the racquet is called a paddle) that combines elements of badminton, table tennis and tennis. You can play singles or doubles, similar to tennis but the court is much smaller (like a badminton court). The paddles are made of wood or composite material and the ball is made of polymer (plastic), much like a wiffle ball.
The sport was invented in the 60s as a children's backyard game but has spread like wildfire recently due to its popularity in community centers and retirement communities. It's much easier to pick up compared to tennis and you don't need as much space to build a court. A normal-sized tennis court can hold four pickleball courts.
Pickleball or tennis?
I'm all for exercise for everyone. Playing any sport is better than sitting on a couch or in an office. The US (and many other parts of the world too) has a huge obesity problem, so to see a sport growing like this is a good thing.
The issue is if they are replacing tennis courts with pickleball courts. Tennis has been around in its current form since the 1870s but has been played in some form since the 11th century. The sport has a rich history and heritage and is one of the biggest sports in the world with more than a billion fans worldwide. The pandemic has brought new life into "socially distanced sports" like tennis, so it's weird that some courts are being replaced by pickleball or (in Europe) padel.
Human beings are keen to follow other human beings and latch onto trends. Squash was a big sport in the 80s, but it never really broke through the mainstream when it comes to televised sports and today it's more marginalized (an estimate of 20 million users worldwide).
What if pickleball or padel is just a trend? Then we will be left with all these courts that remain unused and would have to be changed into something else.
Why is pickleball growing?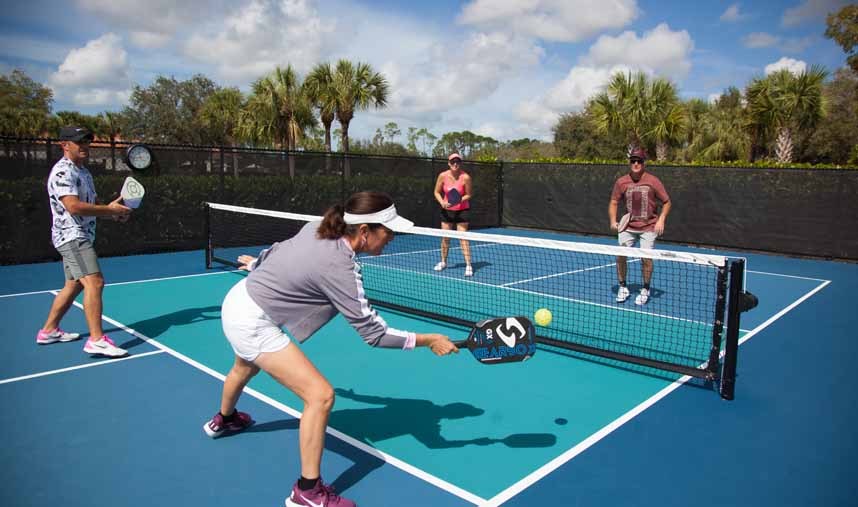 I can see a couple of reasons why pickleball is growing. Partly, all racquet sports seem to have benefited from the pandemic as they're naturally socially distanced. But the main reason for pickleball popularity is that it's easy to get into. You don't need to be in great shape (in doubles you don't need to move that much) and the pace of the game is slow compared to many other racquet sports. The technique is also easier to learn than tennis, where the road to a decent game takes longer.
But I have to make the case for tennis here. The game is deeper and involves more types of shots and strategies. Hitting a winner from the back of the court in pickleball seems pretty much impossible and you need to get to the net and play a game of cat and mouse. The serve is not something you can use to your advantage like in table tennis or tennis and it just seems overall like a great equalizer. What do I mean by that? In tennis, there are many different levels of players and there are often visibly stark contrasts between them. In pickleball, it seems easier for far weaker players to rally successfully and that's the strongest reason why it's so popular.
To be honest, even on the pro level the game looks a bit slow and boring to me compared to tennis. I'm sure it's fun to play, but the potential for people to enjoy watching other people play, seems far weaker than tennis.
Summary
Okay, I'll stop whining. I'm sure pickleball is a great sport and my buddy just started playing it (he is NOT a tennis player). I'm happy for any sport to grow as long as it doesn't mean they take courts away from my beloved tennis.
Have you played pickleball and what do you think of it?