Our pickleball player, Rush Walters, is back with a pickleball paddle review. This time it's a Baddle Lancer review.
Baddle Lancer Review
by Rush Walters
Check out the Baddle Lancer at Total Pickleball
Specifications
Head Dimensions (Length x Width): 16 in. x 7.8 in.
Paddle Thickness: 13 mm.
Grip Length: 5.25 in.
Standard Weight: 7.8 oz
Paddle Material: Honeycomb Polymer Core
Notable Features: Fiberglass Surface
Introduction
Before I get started, I believe it is fair to mention that before doing this review, I was a little rusty due to taking a little over a week off from pickleball. Due to my day job and other unexpected events, my love for pickleball was set aside. After a few games during open court at my local community center, I was back in the swing of things, pun intended.
That being said, this is one of my lowest-rated reviews yet. I pride myself on being honest with my reviews, so take it with a grain of salt that I was off a week from playing. After reflecting on my performance, this paddle does not complement my style of play but could complement others. My style of play is aggressive and focuses on spin and control from all over the court, not just the kitchen or baseline.
I only brought the Lancer to open court at my community center, but I wish I had brought my personal paddle to switch them out when needed. I understand switching between paddles can affect any player's performance, but I honestly noticed a difference in the effectiveness of the paddle's performance compared to my Joola.
Baddle Lancer Review – Rating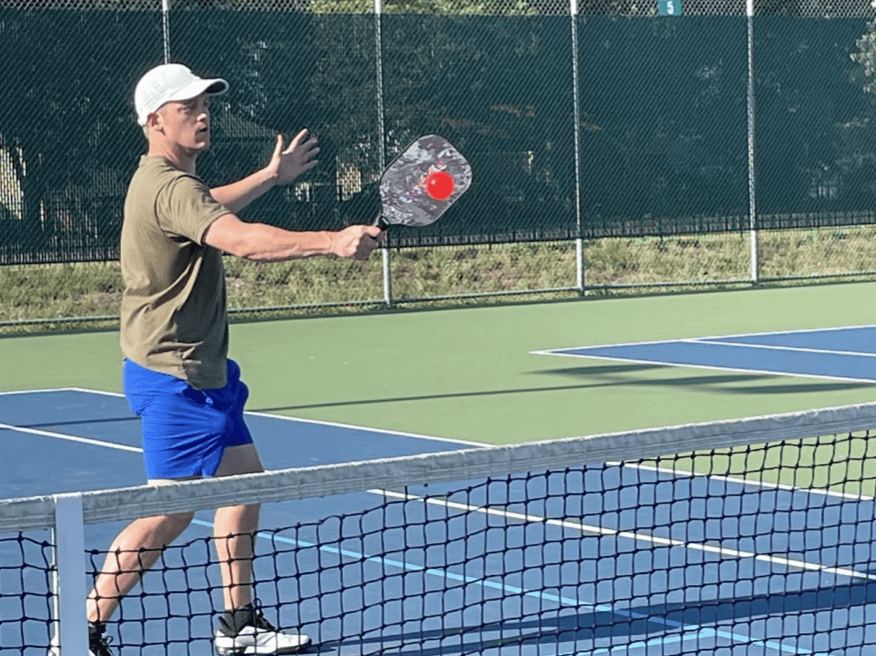 The Baddle Lancer has received a 62% D, as seen below. The paddle did not deliver. Almost every ground stroke I took seemed less effective. I had to compensate with physical strength when producing more power and pay close attention to shot placement. The paddle was unforgiving when it came to ground strokes. I would hit my groundstrokes in, but not shots I was happy with. Since I had to increase my physical strength at the baseline to compensate for power, it threw off my groundstrokes' shot placement.
In terms of strengths, I will give it props regarding touch and control at the net. When playing near the kitchen, I could have decent control and touch, but the paddle still lacked power. The paddle has a gritty fiberglass surface to produce spin, which was helpful at the net for dinks too. The spin was fair, but I have played with other paddles that produce better spin.
Performance Rubric
Time Tested:__4+hrs_
Date(s) Tested:___6/21/22___
Final Grade: 22/35 62% D
Grading Scale:
A 100-90%
B 89-80%
C 79-70%
D 69-50%
F 49-0%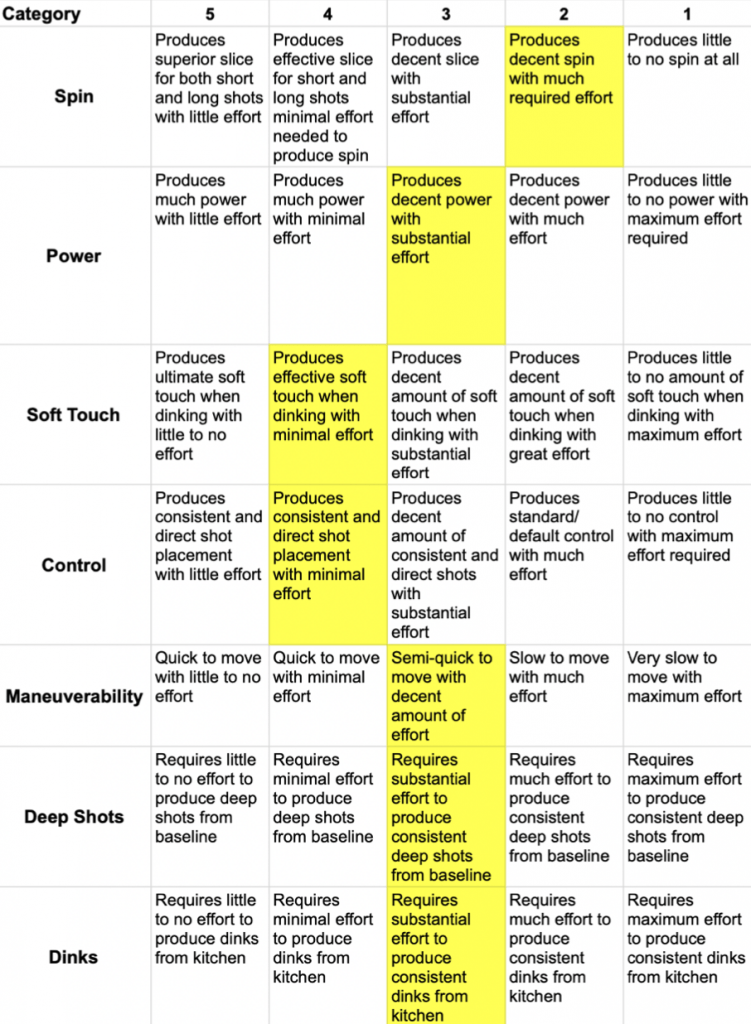 Conclusion
Overall I was not happy with this paddle. As I mentioned earlier, for some reason, I only brought the Baddle Lancer to the open court instead of my personal paddle too. On open court, I played a competitive doubles match with one of my tennis friends from high school. I wish I had brought my paddle to change out, at least during the more competitive match, because I needed to up my game.
For players in the market for a paddle that focuses primarily on dinks by the kitchen and soft touch with decent control, this is your paddle. For players who play the baseline and who want a more versatile paddle, this is not your paddle. Yes, it had soft touch, control, and fair spin, but all of these features were more applicable to the kitchen than the baseline. You could apply these features to the baseline, but you will need to adjust the physical strength you apply to your swings to compensate for the lack of power that this paddle produces. With the paddle being more robust with control and soft touch, it makes sense that power is sacrificed. Usually, paddles and similar to tennis racquets, have stronger control or power. The Lancer had more control over power, and I could tell.
Where to buy Pickleball Paddles
You can buy the Battle Lancer and other paddles at Total Pickleball