Rush Walters is back with a pickleball paddle review, this time he deals with his own paddle of choice. The Joola Vision Carbon Grip Surface.
Check out the Joola Vision Carbon Grip Surface on Total Pickleball.
Joola Vision Grip Surface Review by Rush Walters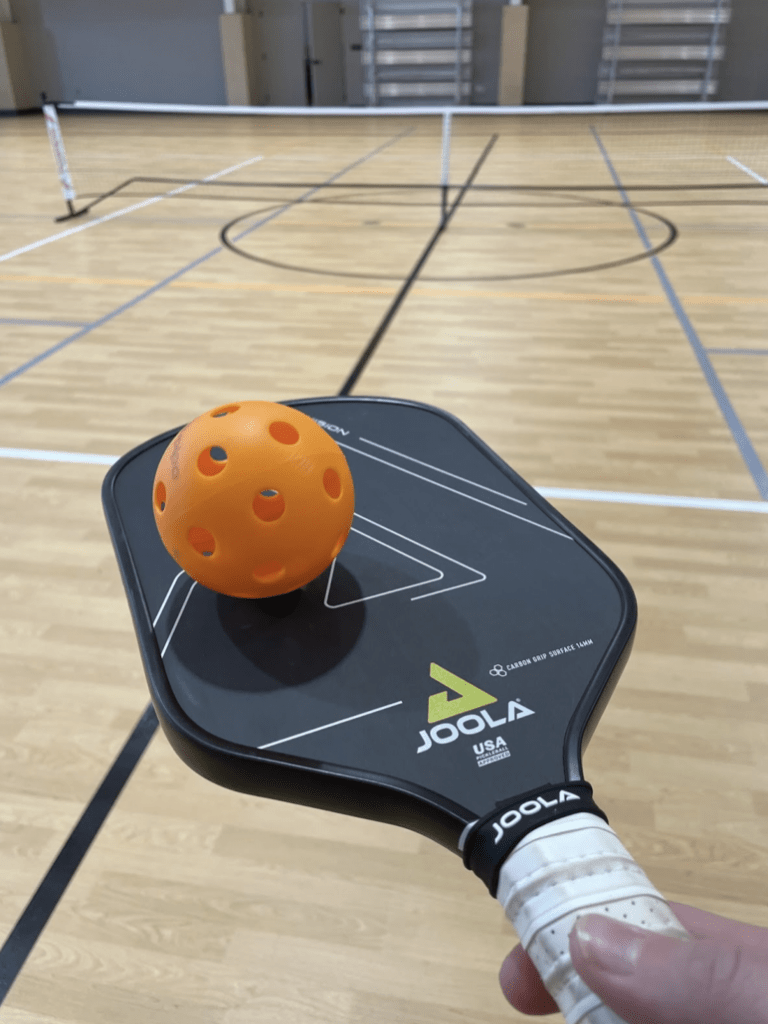 Specifications
Head Dimensions (Length x Width): 16.4 in. x 7.3 in.
Paddle Thickness: 14 mm.
Grip Length: 5.5 in.
Standard Weight: 7.8 oz
Paddle Material: Honeycomb Polymer Core, Carbon Grip Surface (CGS)
Notable Features: "Aero-Curv"
How does it perform?
I received my paddle on 5/7/22. With the Joola Vision CGS 14 being my personal go-to paddle, I would typically say I might be a little biased in this review, but although I have used it competitively for over 10+ hrs, I have only owned it for under a month. So far, I have used it competitively in 6 singles matches and multiple doubles matches. I am still developing my feel for my paddle. As with all my reviews, I am upfront and honest, I really enjoy using this paddle, but at the end of the day it only scored a 82% B on performance as shown below.
I enjoy this paddle because it provided me the performance I personally want as a player: spin & control, top spin to be more specific. At the end of the day, you need to choose the best paddle for your style of play. Coming from a tennis background, I always produced top spin in my forehands and strived to always use a two-handed backhand. The Carbon Grip Surface allows for adequate spin, whereas the 5.5 in. handle allows for two-handed backhands. This paddle served both of my wants and therefore, as of now, it is the best paddle for me.
Performance Rubric
Time Tested:__10+hrs_
Date(s) Tested:___5/10/22-5/20/22___
Final Grade: 29/35 82% B
Grading Scale:
A 100-90%
B 89-80%
C 79-70%
D 69-50%
F 49-0%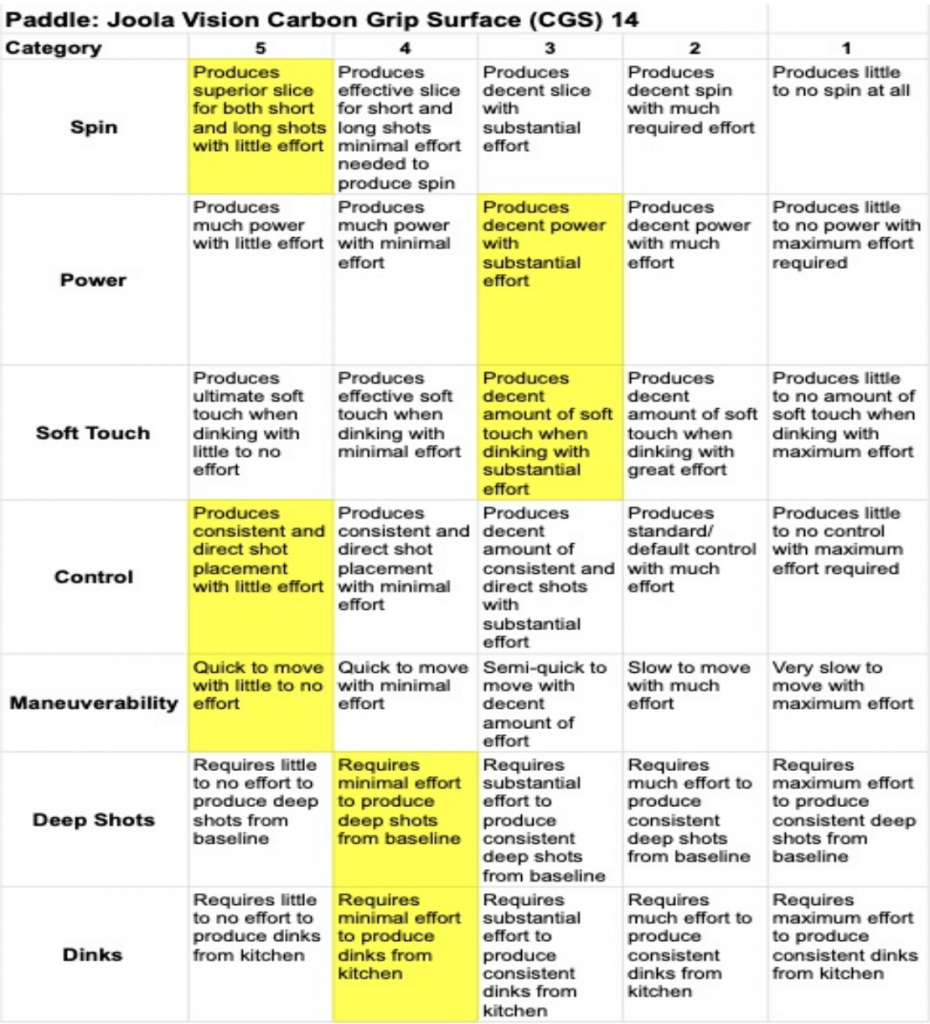 Conclusion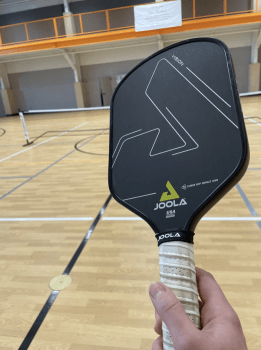 Overall, the Joola Vision CGS 14 delivered in spin and control. I love the amount of top spin I can produce on my forehands from the baseline and the amount of backspin I can produce on my dinks at the net. The paddle's CGS, allows the paddle to produce great spin. I love the amount of top-spin I can produce on my bounce serves as well. Similar to tennis racquets, pickleball paddles either have great control or great power. One is always more dominant than the other. The paddle has more control over power.
On the rubric above, I gave it a 3 out of 5 for power. I almost gave it a 4 in power, but I had to stick with a 3 because although it could pack a punch when coming down on a overhead, I still had to give a decent amount of effort on my groundstrokes from the baseline. I also had to give an extra push at times with my dinks as well. With less power comes less sweet-spot area too, but in order to sacrifice power you gain control.
Before purchasing the paddle, I was happy to see that the average weight was 7.8oz because I wanted it to allow me to be quick at the net/in the kitchen when needed. I did not take in consideration of it's "Aero-Curv" innovation. Joola's Aero-Curv innovation is the curvature of the top of the head of the paddle, going from front to back of the paddle and vice versa. The head's curvature gives it aerodynamic properties that decreases its drag and therefore increases its maneuverability for quicker swings. I haven't seen any other paddle on the market with this type of innovation, this makes me appreciate Joola's attention to detail when creating the paddle.
Softtouch was "ok", it was not bad by any means, but this paddle was not built with the intention of soft-touch being its ultimate strength. I had control with my dinks but had to focus on the amount of power I gave them. The ball bounces at a decently fast pace off of the paddle's surface. A paddle with better soft touch would allow it to slow down the ball a bit. In terms of ball speed, we are talking milliseconds, but it makes a difference in the grand scheme of the game. For the player wanting to focus on spin, control, and maneuverability, this is your paddle hands-down. If you are looking for a paddle with more soft touch and power, the Vision CGS 14 is weaker in this area but can deliver power with more effort on the player's end.
Check out the Joola Vision Carbon Grip Surface on Total Pickleball.