Our pickleball player Rush is back with another pickleball paddle review, this time of the Selkirk Amped Invikta.
Paddle: Selkirk Amped Invikta
I have long anticipated the opportunity to review a Selkirk paddle and undoubtedly, it lived up to its name. I did not even care much about what Selkirk series I would have the opportunity to play with, I was just excited to play with a paddle from the well-known brand. The Selkirk Amped Invikta is pro player Tyson McGuffin's go-to paddle. This was one of my favorites, if not my favorite paddle to ever play with. I am considering buying one.
If you want to buy a pickleball paddle/racket, check out the Selkirk Amped Invikta and other paddles from our friends at Total Pickleball.
Specifications
Head Dimensions (Length x Width): 16.5 x 7.375 in.
Paddle Thickness: 16 mm.
Grip Length: 5.25 in.
Standard Weight: 7.9-8.3oz.
Paddle Material: Polypropylene X5 Core Technology
Notable Features: FiberFlex Fiberglass hitting surface
One of the few drawbacks or questionable features was the paddle's elongated face. Coming in at 16.5 inches in length, the face of the paddle is big! It provides a larger sweet spot, and, therefore more forgiveness in strokes when need be, but it also hinders the paddle's maneuverability. Additionally, after playing with this paddle for hours and getting tired, I realized that my shots were getting a little weak and sloppy. 9 times out of 10 I would attribute my weaker shots to myself not being in the best of shape after hours of play, but this paddle was different. Yes, I could probably be in better shape, but I am not lazy out there on the court, either. After getting tired, I realized how much physical force I was putting behind my deep shots and how much power the paddle was producing on its own accord.
Let's start with the reason why this is my favorite paddle to review this year (2023), its strengths; spin, control, and soft touch.
How does it play?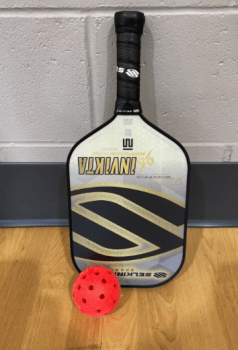 The paddles' ability to spin, control, and softy touch the ball scored a 5 out of 5. I had much success with my shot placement strategy with this paddle compared to others. Sure, I still hit a few long balls here and there, but for the most part, my shots were on point! As I have stated in previous reviews, my style of play consists of spin and control; therefore, this paddle was right up my alley. The first night I tested it, I got a few aces on my serves from the amount of topspin I could produce on the ball. In terms of control, I went for many "put-away" shots, where I just aimed towards the line of the side of the court that I was playing on in doubles. If I were on the right side, I would typically attempt a sharp shot to the inner right boundary line on the opposite side of the court against my opponents.
Similarly to using the paddle's soft touch, I would aim for the corner shots. When I applied the soft touch to dinking, I had a decent amount of success with just barely getting them over the net in order to force the opponents to run up into the kitchen. I did not attempt much spin at the net on my dinks.
The rest of the paddles features: power, maneuverability, and deep shots, all scored 4 out of 5. The paddle is overall great, but I am here to give an honest review of the paddle from top to bottom. I will "nit-pick" when needed. I want to provide every detail about the paddle for our readers. I always strive to pay attention to the details of every paddle that I review.
This paddle is different…
The paddle's face is a whopping 1 ft and 4.5 inches long. Talk about a giant sweet spot! The larger the face of the paddle, the more air resistance it produces and the less maneuverability it produces. I have seen that Selkirk also makes a paddle with a unique hole towards the bottom of its face in order to help its aerodynamics, called the Vanguard Power Air Invikta. Maybe Selkirk tries to solve the problem of having a large-face paddle by creating this innovative "hole" on the paddle's face.
My opinion about the paddle's power and ability to produce deep shots goes hand in hand. The paddles' power was great at first, but the quicker my energy began to wear out the faster the paddles' ability to produce power and accurate deep shots faded away. I say this with a grain of salt, yes I am a bit out of shape. Still, I was also a bit out of shape when I review other paddles as well. Therefore after about five games in, I had to increase my physical strength to produce the power I wanted for my baseline shots. I really had to push myself, as I should but I have played with other paddles that have served me better in producing power.
Performance
Time Tested:__6 hours____
Date(s) Tested:__02/06/23 & 02/07/23__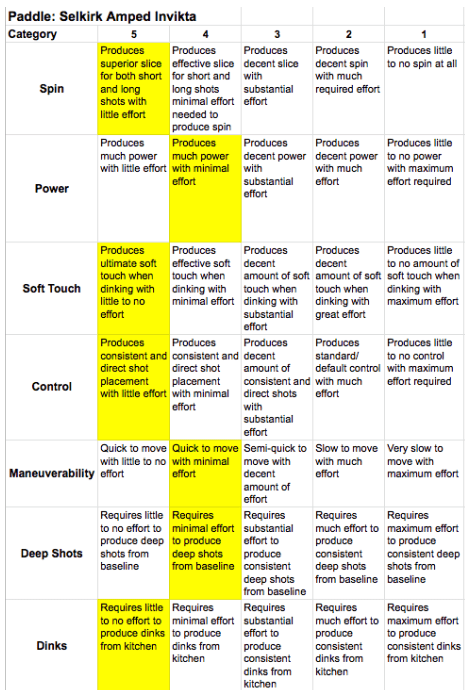 Final Grade: 32/35 91% A
Grading Scale:
A 100-90%
B 89-80%
C 79-70%
D 69-50%
F 49-0%
Conclusion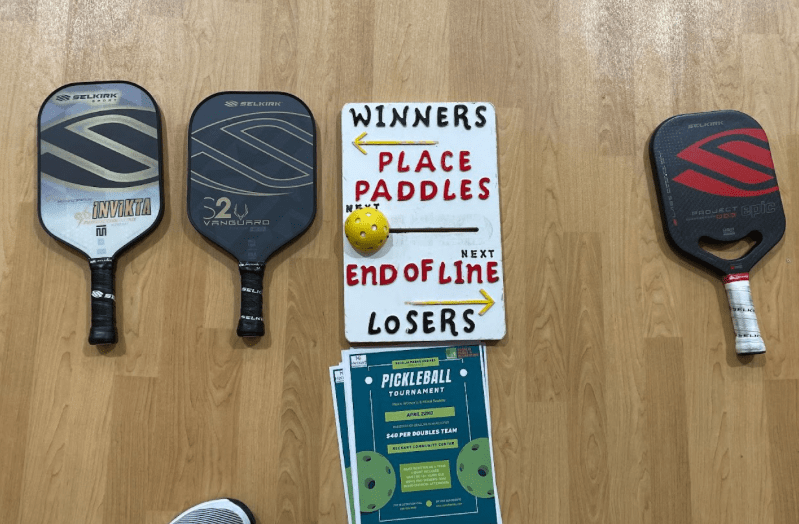 I will definitely be looking into officially adding a Selkirk paddle to my collection. I was a big fan of this paddle and would recommend it for any intermediate to advanced player wanting to focus on spin and control. I must say I am also very interested in taking one of their Vanguard paddles for a spin too. The "hole" in the bottom of the Vanguard's face really intrigues me. If the Vanguard can produce the same amount of spin and control that the Amped paddle can, and it has a better ability to maneuver, I am all in for purchasing it over the Amped.
If you want to buy a pickleball paddle/racket, check out the Selkirk Amped Invikta and other paddles from our friends at Total Pickleball.
If anyone has played with a Vanguard, let me know your opinion about it below in the comments! Does the innovative hole actually make a noticeable difference in maneuverability?
Selkirk is an established brand in the world of pickleball and I can testify that it has lived up to its name.