It's time for another pickleball paddle review. This time Rush tries the power-oriented paddle Stiga Aviox Carbon Nomex.
Pickleball Paddle Review: Stiga Aviox Carbon Nomex
Buy the Stiga Aviox Carbon Nomex at Total Pickleball
Check out our other pickleball reviews here.
Specifications
Head Dimensions (Length x Width): 16 in. x 7.5 in.
Paddle Thickness: 10.5 mm.
Grip Length: 5 in.
Standard Weight: 7.8 oz
Paddle Material: Nomex Core
Notable Features: Carbon Fiber Surface
I really enjoyed reviewing the Stiga Aviox Carbon! I truly enjoyed playing with this paddle because it produced consistent power and did not sacrifice too much control. Although it's a powerhouse, I could still manage to produce consistent shot placement. As a player, I mostly focus on control and spin, but when I want to focus on power, I stick with the Aviox Carbon!
When playing with a powerhouse paddle, who doesn't enjoy an excellent overhead slam? I do feel like I need to apologize sometimes when I hit a hard slam towards an opponent, but then I am like, "I have to take the shot," then I smile as I tell them, "I have to take it."
Power, Consistent Power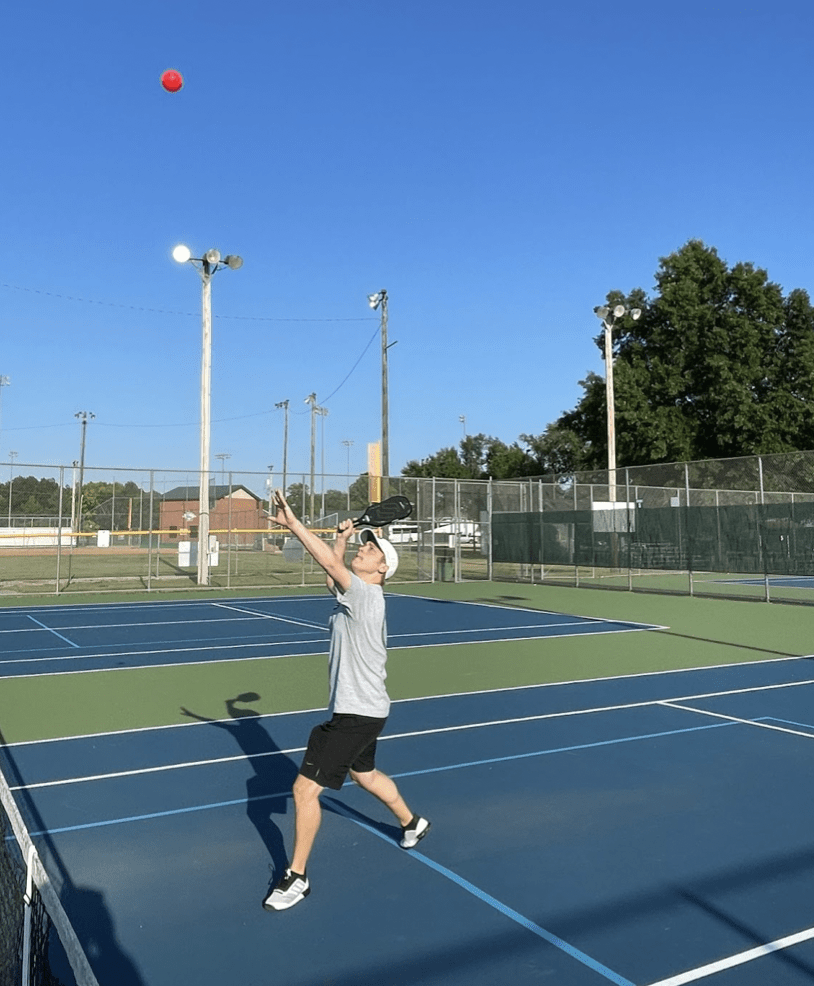 Similar to my tennis style of play, I like to focus on control. Therefore playing with a power paddle changed the game for me, but I liked it. The Aviox Carbon is very much an aggressive paddle. You can be a beast at the net with this paddle. I gave it a 5/5 for power, but I also gave it a 5/5 for deep shots, dinks, and maneuverability. Aviox Carbon's brother, Aviox Fiber (which I also reviewed), was very maneuverable. Both paddles are designed with a "diamond" shape, allowing for faster movement.
According to stigasports.com, "The paddle's offensive diamond shape offers several advantages during volley play close to the net, with extra reach and the possibility of faster moves." I couldn't agree more. The Aviox Carbon is definitely designed for aggressive net play rather than hanging out at the baseline, but it still delivered when it came to deep shots from the baseline. Sure, I lost a little bit of control when taking groundstrokes from the baseline, but if I worked at it, over time my baseline shots would improve. Over the long run, I would need to fine-tune my groundstroke form for this paddle because of its aggressive power, but I can see the potential for solid, powerful drives from the baseline. All in all, the Stiga Aviox Carbon shows consistency and power.
Performance
Time Tested:__3+hrs____
Date(s) Tested:___7/14,7/20___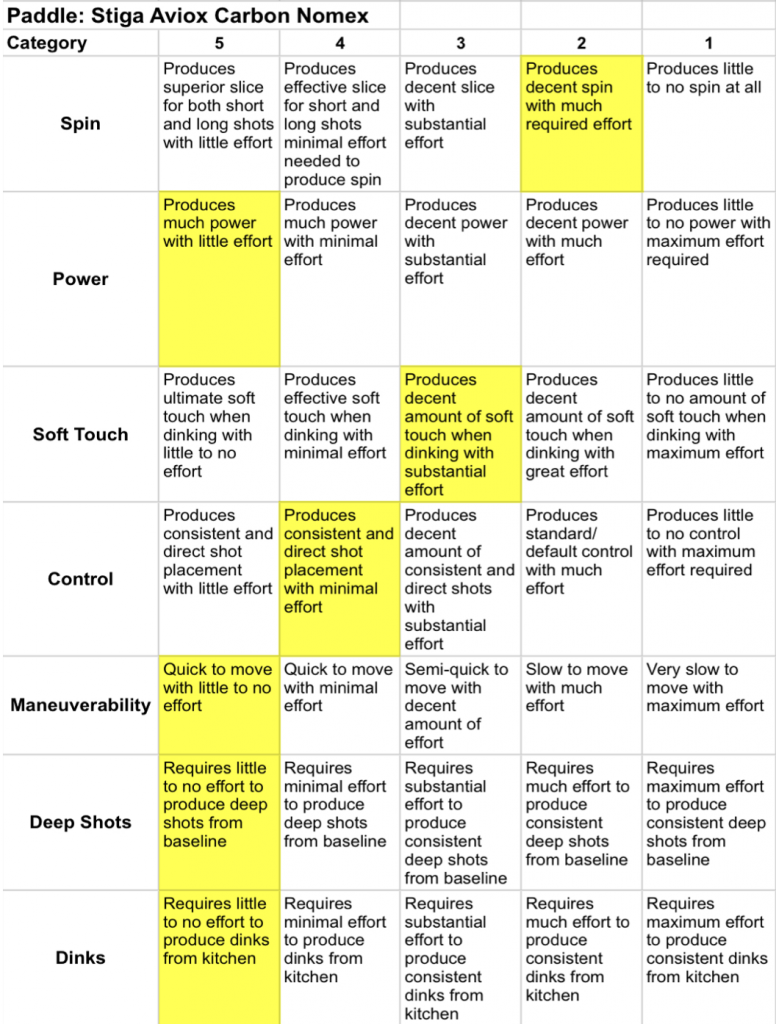 Final Grade: 28/35 80% B
Grading Scale:
A 100-90%
B 89-80%
C 79-70%
D 69-50%
F 49-0%
Conclusion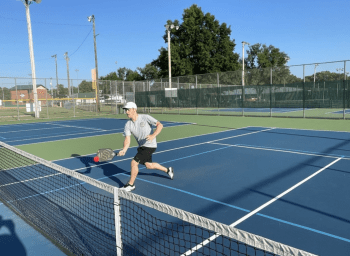 Stiga's Aviox Carbon paddle is an upgrade from its brother, the Aviox Fiber. Carbon comes in at a $149.00 price point, whereas Fiber comes in at $89.00. I would attribute the price point to the material that is put into the two different paddles. In terms of performance, I scored Fiber at 77% C, but was still a great all-around paddle. Carbon came right in at a solid 80% B because it had almost everything the Fiber had, but it also brought consistent power to the table. I love the consistency in power that this paddle produced and that I still had decent control of the ball. The paddle is an excellent weapon at the net that I recommend any player to have at their disposal. I would recommend this paddle for the intermediate to advanced player because although it can produce consistent shots, you as the player need to know how to gauge its power and how to control it. I would definitely keep this paddle in my lineup when it comes to playing a more aggressive power game.
Buy the Stiga Aviox Carbon Nomex at Total Pickleball