The ATP Tour has moved to Rome and fitting of the world's style capital (Romans are the most show-offy people in the world in my opinion – in a good way) most of the talk today was about Federer's new haircut. Being a big fan of Federer, I take notice of these changes while part of me wants to scream – get on with your lives, it's a haircut! But even the smallest features of the famous makes headlines so I shouldn't be surprised.
What should have received a headline of some kind was Federer's play against Italian Potato Starch (his name is really Potito Starace, but like Brad Gilbert I like silly nicknames). Federer played brilliantly and disposed of the Italian clay-courter with the dismissive scoreline 6-1 6-2. Le Fed moved into the net a lot and ended up 15/20 on volleys. A pretty cool stat on clay, well worthy of the champ.
So what does Tennisnerd think about Federer's hair? I think it suits his tidy personality although I'm a bit sad that we won't see him flick his fringe or move part of his hair behind his ear. (No, I'm not gay, I just think it looks cool). In conclusion: Federer's new haircut gets 3/5. It's always interesting with change.
But on a side-note I prefer him playing in shirts with a collar.
What else happened in Rome today then? Well, in short Baby Federer (Dimitrov) was spanked by Gasquet 6-4 6-4 in a class display by the Frenchie. Kevin Anderson played a composed match in upsetting talented Marin (who's-that-guy-again?) Cilic, Del Potro crushed Kuznetsov, Wavrinka had some problems with Berlocq but won in the end, Djokovic brushed aside Montanes,  and when I'm writing this Birdman Berdych is beating Istomin. Nothing outrageous, but some good tennis on display. Let's end this post with some more hair. Less good, just MORE.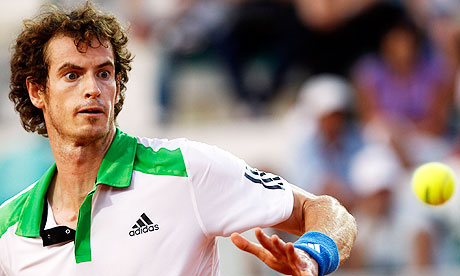 Muzza the mad scientist in a picture from 2007.