Coach Evan Gaudreu is back with another piece centered around the tricky American youngster, Jenson Brooksby called Brooksby's back, alright!
Brooksby's back, alright!
"Where, oh where has my Brooksby gone?
Oh where, oh where can he be?
With his crusty clay court outfit
And his…."
Shit! He's got new duds. The shirt's kinda cool but those Wilson shoes?
Yellow?
They look like bananas!
There are two rules in life.
Wash your hands after you go to the bathroom
And…
Stay away from the color yellow.
Where has Coach Evan been?
I took most of the summer off (busy doing actual work). Now it's time to start seeing what the players have been up to.
Ps. If you want to read more of Coach Evan's articles click here or watch our latest podcast here. Ds.
One thought that keeps popping up all summer and has been for as long as I can remember is the idea of winning and the value people hold to it, especially the parents of junior tennis players.
This affects every player, from juniors to club players, college players to pro players. At some point, that mentality is going to bite you in the ass.
"If you are unwilling to lose, you will never win!"
This counters Ricky Bobby's philosophy from Talledega Nights…." If you aren't first, you're last."
If it's Tuesday night Men's league at your club (like every Tuesday night throughout the year), and you are so concerned with where you place on the ladder and who beat who last week…
And so on…
How do you REALLY improve?
How are you ever going to improve your weaknesses?
Before I move on…
Here's the trick.
Stop focusing on your results and the results of others and start adding new pieces to your game by not worrying about whether you win or lose….
And don't worry about what other people are thinking about you.
In a nutshell, start planning out your tennis more constructively. Maybe focus on winning for a few months, then spend the next few months not worried about results and improving a weakness and then go back to winning.
Over to Brooksby (vs Coric)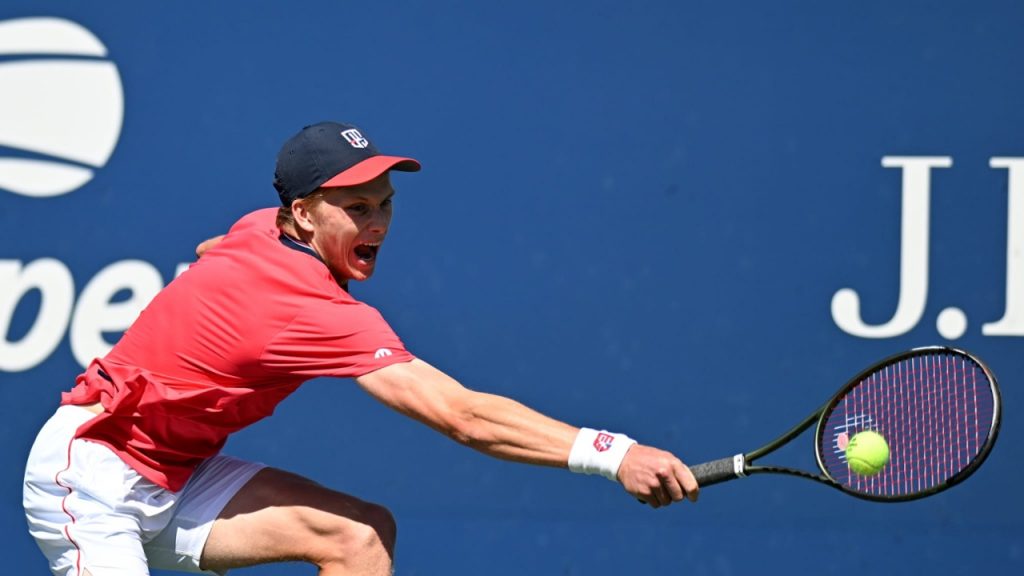 Let's see what Brooksby's been up to other than having a crappy summer.
Is he expanding his game plan and adding to his repertoire (hammering Box 3)?
Before he broke Coric's serve, he focused on returning cross courts to the centers (Deuce side return to Box 2, Ad side return to Box 3…roughly)…Once he established that pattern, he snapped a forehand return up the line on the second break point.
He caught Coric sleeping. Who else does this? Djokovic! Establishing criss-cross return patterns and then deviating from the pattern by hitting "straight-line" returns.
Other players on tour are picking up on this, but they're just copy-catting with no thought behind it.
Here's the deal.
If you're pulled wide to the Deuce side sideline, you can bail out to Box 3 (as opposed to the old logic of returning the ball crosscourt with height to give you time to recover, and OH! Give your opponent plenty of time to plot his attack AND give him options down the line, crosscourt, or even a "recycle" to your Box 3). By straight-lining your defense, not only do they have less time to plot, but they also don't have many options.
Pressure is back on them. They most likely won't hit back to you, so they will have to go to the AD side. If they hit the winner, so be it. But if they don't, the options fall back to you, and you turned defense into an advantage.
It's turning the point from 30/70 in their favor to at least 50/50 on your side and, in some cases, 70/30. (brief post on Instagram about this. Mavericktennisinsta. Murray vs. Fritz).
A drill that came to mind after watching the first game is to cut one side of the court into three pieces, and you can even stretch it a bit over the hash mark.
Start by "walking" the ball from Box to Box with your hitting partner. There are a lot of variations to this.
Be patient and drill!
But.
Do the drill for a few sessions, weeks, etc. However long it takes.
Once you get a handle on it, have the other player hit the full court and try to walk the ball while the hitter does whatever they want.
Also, give yourself a "bail out" on the other side of the court.
Your tennis will improve.
Singular focus.
It takes all the pressure off.
Remember when all those boneheads were walking in front of cars holding their phones up, looking for Pokemon? Or walking into fairways on the golf course and getting clunked with a golf ball.
That's what I think of when tennis players play "mindless" points.
Do this drill with serves and returns: once you feel the hitting is too easy. You'll notice it gets more challenging, especially when you're holding a continental serve grip and then flipping to your forehand grip too late.
That's a big issue with players, even on the tour level. Coaches should focus on their opponent's grip after the serve, rather than holding their….
Pencil.
Did you think I was going to say something else?
Brooksby is adding strings to his game
Another thing Brooksby is adding is deviation.
Or a diversion.
He plays a pattern I call 'Hop Box."
It's hitting Box 2 and Box 4 (or you can hit Box 1 and Box 3) to throw players off.
It's crazy to me that players don't do Box training.
There is so much more strategy that can be played.
Side note.
I went to qualies at the open and watched matches and practice sessions. Many guys were playing "winner ball," Just cracking serves and cracking first balls.
Fritz….out
McDonald…out
Shelton…out
Garin…out (literally, he was hitting two crosscourt and smashing a line ball for a while)
Felix…
Sonego…
Korda…
Hurkacz…
I wish I could have written this that day…would have called these guys going out early…
Oh well.
Maybe next time.
But
Alcaraz was training
Sinner looked to have a focus too.
Fokina.
Those three looked to be hitting with intensity and thought behind it.
Anyway.
If you train like a bonehead, don't expect miracles.
Brooksby again
Ha!
Brooksby being Brooksby.
He was serving at 5-4, Deuce. Coric missed the return, and Brooksby hit the return in his direction.
Classic douche move.
Sometimes it's good to see that things never change.
But that makes me laugh.
Someone should prank Brooksby for that. Like hide his "Sippy" cup or relocate his Winnie the pooh blanket….
Did you know that Jenson is a Ventriloquist?
Pick his lock, and you will see a mini version of him on the hotel bed.
He calls him B.J.
You'll also see….
Comic books.
Pee Wee Herman doll.
Spaghetti O's.
Wait a sec. I just got word from my guy in his room.
The comic book was a fake.
It appeared to be a comic book, but closer inspection revealed it was just the cover. It was a different type of mag inside.
Question:
There is a girl. A woman in Brooksby's player box…Who is she?
Answer:
An imposter. A usurper. I'm getting a "Can't buy me love" vibe when Patrick Dempsey's nerd character "Bought" a hottie.
Another question:
Is it a coincidence that the dude in Coric's box is wearing a Space Jams T-shirt?
Are you kidding me?
What adult wears that shirt?
Is this a joke towards Brooksby?
Whatever.
After Coric went up 3-0 and 4-1 in the second set, it looks as though Brooksby is playing for the third set. If he's going to lose the second set, he's going to get something out of it. Let's wear this guy out and stretch the court a little.
And he pulls it back to on serve by doing that. It was that, and Coric seemed to get ahead of himself. He might have thought the set was over.
Brooksby added some MPH to his forehand.
It's funny that players think…." Oh. Jenson's forehand is weaker. Let's go after it." But it's how you get after it that matters.
The bottom line is to use the middle of the court to pull him wide to the backhand and then get after the forehand. I've watched too many Brooksby matches to know he struggles with that. Of course, there's more to it. Serving locations, return locations. A Box strategy can beat all kinds of players and all the "old" systems like cross courts, zone tennis, and serve +1's…. it's like people playing rock, paper, scissors, and you have a "Boom" card to play that trumps everything.
I haven't written all summer, so I'm all over the place.
I noticed a pattern of changing pace by Brooksby and not necessarily changing depth. Just pace. Mix up speed to the backhand and increase the pace to the forehand.
And vice versa.
I hate to sound generic, but Brooksby came up big on the big points.
Why is that?
When he wins those long rallies, especially on big points, it makes me think he does some crazy drilling like 20 or 30 in a row where the other guy/hitter can go wherever he wants and as big as he wants, and Brooksby has to get everything back to two or three spots.
This can be done live ball or fed ball.
Mental training.
Try feeding your kid balls randomly and tell them it's not over until 20 in a row are in the singles court.
As I'm writing, Brooksby just saved his 6th set point against him with a swat overhead you probably see at your local tennis club hit by the "maniac" player who can't control three shots in a row. When he hits an overhead, you have no idea whether it will go straight to the curtain, straight at your face, or into the court.
This match was weird.
So many break points and game points disappeared for Coric. Generally, that happens for a couple of reasons…1) lack of planning-meaning there's no strategy between how you start the game and how you finish the game… i.e.…" Winner ball." It's like focusing on a faulty game plan of power and depth and letting the chips fall where they may…like chucking up hail mary's every few points and hoping for the best.
1) this also leads to randomness on the other side of the net. I hate to beat a dead horse, but if you box train and hit specific locations (boxes), not only does it take the pressure off of you, but you start to "understand" what outcomes come from your opponent from each box. You will have a better idea and control over the point, whether you win or lose the point.
2) game points squandered come from lack of point play and layoffs. A simple solution is to play games starting at 40-30 and play first to 10 games (or play it for 20 mins serving and returning).
3) Thinking ahead and not being in the now…again, that falls under faulty game planning. If you watch this match, notice how Coric looks to his Box occasionally after missed drop volleys and whatnot. So many "teams" watch matches and use another player's strategy against the same player. This can work somewhat, but over time wouldn't you think the other player is working on "combating that strategy?
This happens at the club level too.
"Hey, you're playing so and so. What you want to do is keep the ball in the court. They'll eventually miss."
-bad strategy. If everyone does that to said opponent, they will eventually figure out how to beat simple gameplans.
"Hey, you want to bring the player in with drop shots."
-When my daughter was 11 and 12, the 4.0 club players would drop shot her because she didn't move into the court as well…not a good strategy…meaning it worked then, but by 13 and 14 it barely worked because she was expecting it, she knew they couldn't go toe to toe from the baseline and would bail out of the point with a drop shot.
"Attack the backhand side."
-What? Until they see enough of it and it doesn't work anymore? This is why I like lefty hitters for my players and my daughter. They target the backhand side more and the players get more backhand work in.
I apologize for being all over the place.
I will do better next time.