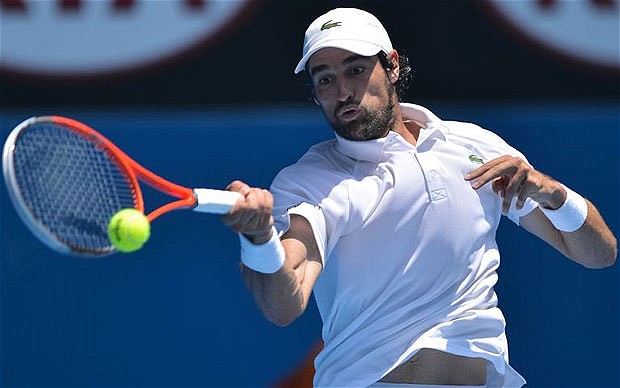 Strange headline, yes, but tennis guru Brad Gilbert's nicknames for top players are sometimes worth re-using. And since Federer is sponsored (among other luxury brands) by Moet, well, it fits together.
What doesn't fit well together is wind and tennis and it was evident in blustery Rome yesterday. The red dirt whirled around the court, wreaked havoc on the predictability of a flying ball and made playing competent tennis extremely difficult even for seasoned professionals. Rough weather is the great leveller and perhaps it's what made Jeremy Chardy play the match of his life and in the end outlast a Federer that fought both the conditions and his opponent. It was obviously extra tough for Federer who only a week before become a father of four with the birth of his second twin-couple, Leo and Lenny.
Even the most outspoken and die-hard fans in my Twitter feed had this to console themselves with, Federer wasn't mentally prepared to play in Rome and together with the weather (wind not being the perfectionist's favourite), it wasn't a completely surprising result.
Kudos though to Chardy who must have fought quite a serious bout of nerves to win 1-6 6-3 7-6 (8-6) after saving one match point in the tie-break.
Does this victory mean more great things are in store for the Frenchman? I don't know. Chardy has great strokes, but his results have been erratic to say the least and my feeling is this might be a one hit wonder. He's currently ranked 47 in the world and has one title to his name (2009) with a win-loss record of 14-11 so far in 2014.
The future will tell what's in store for Chardy. For Federer, I guess, nappy-changing, practice and rest to tune up properly for Roland Garros. Even a Fed fan such as myself finds it hard to hope for great things in Paris, but with a good draw he can maybe reach the quarters.
If you're interested in Jeremy Chardy, here are his career highlights so far as summarized on the ATP World Tour website:
2013 — The Frenchman finished in Top 50 for 4th time in 5 years, reaching a personal-best No. 25 in January after 1st Grand Slam QF at Australian Open…Best result was SF in Viña del Mar (l. to Nadal) in February and in Grand Slam play, compiled a 9-4 record, with QF at Aus. Open (d. No. 7 del Potro, l. to No. 3 Murray), 3R at Roland Garros (l. to No. 8 Tsonga) and Wimbledon (l. to No. 1 Djokovic) and 2R at US Open (l. to Benneteau)…Also QF in Valencia (d. F. Mayer, No. 14 Isner, l. to Tursunov) and 's-Hertogenbosch (l. to Wawrinka)…Compiled records of 10-14 on hard, 8-9 on clay and 4-2 on grass. Went 1-5 vs. Top 10 opponents and earned a career-high $945,291…
2012 — The Frenchman finished a year-end best No. 32 (also in '09) by climbing 71 ranking positions from previous season to finish in Top 50 for 3rd time in 4 years…Opened season with Challenger title in New Caledonia (d. Menendez-Maceiras) and runner-up at Tunis Challenger (l. to Ramirez Hidalgo) in May…His best ATP World Tour results were SF in Viña del Mar (l. to Monaco) and QF in Acapulco (l. to Wawrinka), Casablanca (l. to Ramos), Hamburg (l. to Monaco) and ATP Masters 1000 Cincinnati (d. No. 4 Murray, l. to del Potro)…Also beat No. 6 Tsonga in Toronto en route to 3R (l. to Granollers)…In Grand Slam play, reached 3R at US Open (l. to Klizan) and 2R at Roland Garros (l. to Tipsarevic) and Wimbledon (l. to Monaco)…Compiled records of 12-8 on clay, 10-10 on hard and 2-2 on grass…Went 2-2 vs. Top 10 opponents…
2011 — The Frenchman finished just outside Top 100 for 1st time 4 years, highlighted by a SF in Moscow as a qualifier (l. to Troicki)…It was only ATP World Tour event in which he won back-to-back matches…Compiled a 12-5 match record in Challengers and won Madrid title (d. Gimeno-Traver) and runner-up at Nottingham-2 Challenger (l. to Sela)…Biggest win came over No. 10 Melzer in Davis Cup 1R…Then defeated Martin Fischer in 5th and decisive rubber to give France 3-2 win…
2010 — The Frenchman posted his second consecutive Top 50 season as he recorded a career-best ATP Masters 1000 result…Opened season 1-5 before reaching Delray Beach QF…Reached 3rd RD in Miami* and Wimbledon…On clay, reached 3rd RD in Hamburg and QF in Gstaad…Posted career-best ATP Masters 1000 result with QF in Toronto* by beating two consecutive Top 10s No. 9 Verdasco and No. 6 Davydenko (l. to Djokovic)…In fall, reached QF in Bucharest and, as qualifier, 3rd RD in Shanghai*…In doubles, captured first ATP title in Brisbane (w/ Gicquel) and runner-up in Hamburg (w/ Mathieu).
2009 — The Frenchman compiled his best season by breaking through to capture his first ATP World Tour title and reaching another final…One of most improved players on tour, winning 35 matches, 25 more than previous year, and reaching a career-high No. 31 in November…In Stuttgart, rallied from a set down against Hanescu to win in three sets to earn his first ATP World Tour title…In February, advanced to his maiden final in Johannesburg (l. to countryman Tsonga) and SF in Delray Beach (l. to Fish)…on clay advanced to SF in Munich (d. Cilic, l. to Berdych) and 3rd RD at Roland Garros (l. to Haas)…In second half of season reached QF in Gstaad (l. to Andreev) and 3rd RD at ATP World Tour Masters 1000 Cincinnati (d. Robredo, Isner; l. to Djokovic)…Went 0-5 vs. Top 10 opponents and compiled marks of 17-17 on hard and 16-8 on clay…Earned a career-high $676,894…
2008 — Finished in Top 100 for first time after reaching two ATP QF and Grand Slam-best 4th RD at Roland Garros…Opened season on Challenger circuit, qualifying into hard court tournament at Bergamo and also reaching QF next week at East London…Followed on clay with QF at Meknes and final at Marrakesh (l. to Monfils)…Received wild card to play at Roland Garros and posted wins over Gil, No. 7 Nalbandian in five sets, and Tursunov before falling to Almagro…The win against Nalbandian was his first against a Top 10 player…Afterwards, moved up 51 Rankings spots to crack Top 100 at No. 94 on June 9…Defeated Gil again on his Wimbledon and US Open debuts (l. to Mathieu and Andreev, respectively, in 2nd RD), marking the first time in Open Era two players had met in 1st RD of three straight Grand Slam tournaments…In July, qualified into Gstaad and reached first ATP QF (l. to Hanescu)…Followed with Challenger title on clay at Graz (d. Roitman)…During European indoor season, reached QF at Moscow (l. to Kunitsyn) and made AMS debut at Paris (l. to Robredo)…
2007 — In his first ATP event in Marseille, lost to No. 20 Nieminen in three tie-break sets in 1st RD…Won two Challengers titles, beating Gremelmayr at Kosice, and Bohli at Barnstaple…Finished in Top 200 for first time at No. 188…Posted 0-3 record in ATP events…
2006 — Jumped from No. 563 in '05 to No. 262 at end of season…In Grand Slam debut, advanced to 2nd RD at Roland Garros (d. Bjorkman, l. to No. 15 Ferrer)…Reached Future finals at Barnstaple, Great Britain (l. to Robert) and Khemisset, Morroco (l. to Karol)
2005 — Won his first event of season, a clay court Futures over Stefan Wauters in Grasse, France and followed in his next event with SF at Angers
2004 — Reached QF in first pro Futures event at Saint-Gervais, France in July