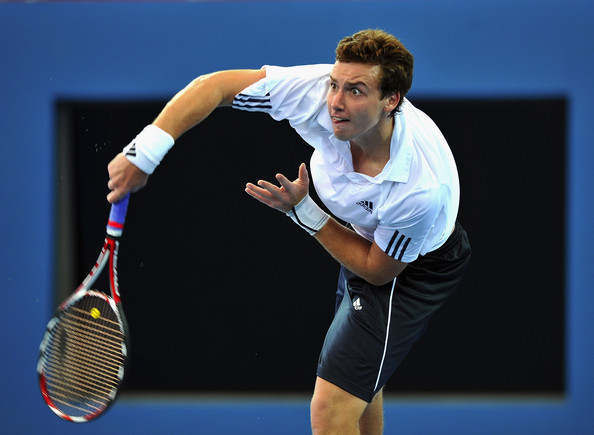 This man made the heart of many tennis fans stop yesterday for a little while. He fought the clay king with all his might and was close, oh so close, to getting the impossible W. Yesterday's match against Nadal in the Rome Masters semi-final was the best match so far this clay season and hopefully we will see much more from this talented 21-year old.
By watching Gulbis you can't help to notice how much the game has changed over the years. Today you need to have basically every shot in the book to be a top player, it is not enough with one big forehand and the rest mediocre ones. You have to have a big serve, big baseline game, at least an OK volley, and good physique. Gulbis has it all. The only doubt in his arsenal has been "heart", the love for the sport and for winning. But hopefully and probably we saw a different Gulbis yesterday, a guy ready to give everything he has to win. Because if he does he should be a top ten player very soon.
If you have watched interviews with the Latvian you often hear about how he used to go out to clubs 2-3 nights a week and maybe practice an equal amount. If that is true it explains that his results haven't really matched his talent. But if he could get the partying out of his system, or at least minimize it, we will have a very different and even more dangerous player to watch on the ATP tour. After the match against Nadal he commented: "I thought he would be better, but I know that if I play well I can be a threat to anyone on tour". This is obviously true. After a match like yesterday's he even deserves to go out into the Rome nightlife, which he also said he intended to.
People talk a lot about his father's wealth and how that affects his drive. It probably does, but we shouldn't put too much into it, he is still young and will grow into his own, not only be a shadow of his father's wealth. That would be a waste of talent if there ever was one.
Can Gulbis be a new Federer? Can he win multiple Slams and be a terror on the tour? Who knows? But my gut feeling says that it will be a long time before we see someone dominate the tennis circuit like Federer and Rafa did. But if Gulbis keeps this up he definitely deserves to be a slam winner. Go Gulbis!