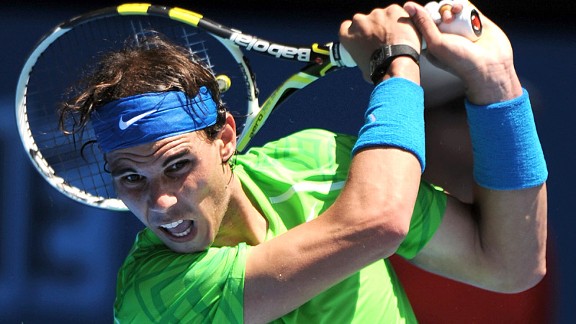 Two spectacular quarter-finals took place today, and they were spectacular in very different ways.
Federer's trashing of Del Potro was masterclass in efficient and brilliant tennis. Whatever Del Potro threw at the great Swiss, the tennis maestro had an answer to which shows in the final score 6-4 6-3 6-2. Del Potro didn't play bad at all, but today he was still a class below Federer who looks really eager to play his best in 2012. He will sure be a tough nut to crack for…
Rafael Nadal, who was really on the ropes against a Tomas Berdych playing the best tennis of his life. If Berdych can keep the kind of level of play like he showed against Rafa he should be knocking on the Murray's door very soon.
Berdych took the first set 7-6 and had a set point at 6-5 in the second set tie-break where he punched a volley long. Someone on Twitter said that it was ominous, much like Roddick's volley in the second set against Federer in the 2009 Wimbledon Final. The American had, like Berdych, the chance to get 2 sets up, but missed the volley and lost the match 16-14 in the fifth.
Berdych didn't get to the fifth set, but he played an amazing match which also shows how good Rafa is. Winning 6-7 7-6 6-4 6-3 against a top player on the top of his game is no mean feat and Rafa should, even after a 4 hour match like this one, be ready to give his best against Federer.
The "Fedal" is hard to predict, Rafa leads their H2H overall, but Federer is 5-4 on hard courts. Australian Open has slower hard courts though and this ought to favor Nadal in a way, but it still feels completely open considering how well Federer is playing. Both guys are dying to win another Grand slam – especially Federer who hasn't since 2010 – after Djokovic monster year 2011.
We can surely expect a great fight between the two, but the winner is far from certain of the title, because I would be very surprised if someone else than Novak Djokovic waits there and he's the man to beat at the moment.
No matter the outcome, we're in for some fantastic tennis action in the last few days of the Australian Open.