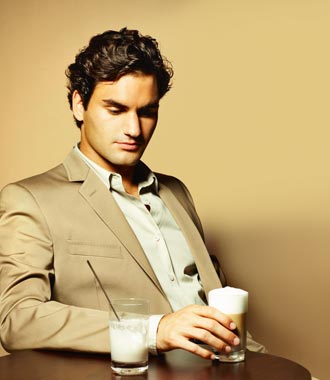 I guess that is what many of us Federer fans feel like. This losing thing has to stop! It is not only masters anymore, I feel that that record of a gazillion straight semi-finals is in very grave danger for the French. You can not only see it in the attitude, he is really not playing well and he is playing even worse at the key moments in a match. When the old Federer was down he would look for any way possible to get back in the match and use it. That is why he got that feeling of being invincible. But now, I think a lot of the players on tour feel that is he indeed very beatable. It is like he is playing at 70% and they at 100%.
Most Federer fans now say: don't worry, he will be back in Madrid and if he loses there, he will at least be back in Paris when he has time to find his game thanks to five sets. But, come on, the way he is playing right now he can lose in straights even against players like Montanes.
You need to have a very good, solid game to make an impact on clay and the way Federer is shanking both forehands and backhands left and right and long, it is simply not stable enough for a full tournament.
I am very negative about Federer prospects for Madrid and also French Open. But he has proven me wrong before and I hope he does again.