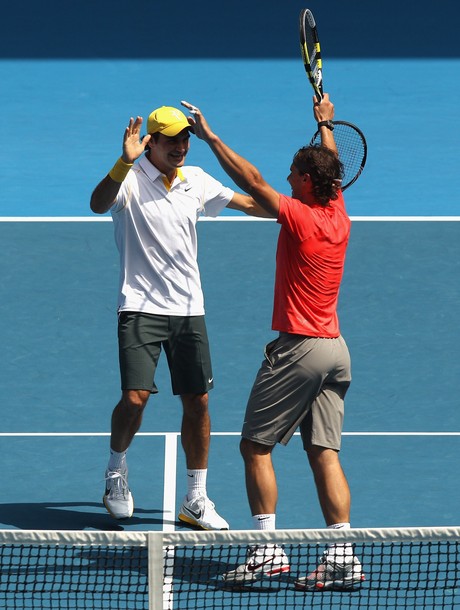 The tennis year was supposed to start with a bang with Federer and Nadal (Fedal) playing in Qatar. It looked like a very likely final. In the end neither Federer nor Nadal made it all the way there; Federer withdrew for the first time since 2008 because of back pain and Nadal was swashbuckled by an inspired Monfils in the semis. This left the title open for Tsonga who due to Federer's semi-final withdrawal instead play an exhibition set against Stefan Edberg!
And this is exactly what happened. Tsonga continued his great form from 2012 and beat Monfils in final that couldn't but feel a bit like a disappointment to the crowd wanting another Fedal. Still, to the Frenchmen's credit, the final was really well-played and you can't but help to think Tsonga is in for bigger and better things in 2012. Does he have slam in him? With the top four in good shape it will be hard for him, but with a good draw and some luck it can be done.
Nadal played one really amazing match in the tournament against Youzhny, he looked pumped like a wild bull, maybe because Raúl from Real Madrid was watching or maybe because he felt he really had to play that well against Youzhny who's beaten him in the past and is a really difficult opponent. Nadal played great and won the match 6-4 6-4. Most people by now thought he would go on to win the title, but in the next match against Monfils he came out flat, despite being able to go up 3-0 in the final set he lost it 7-5 and the match in straight sets.
Should this worry both Nadal and Federer fans? Yes, possibly.
Federer seems to be at his most vulnerable health-wise at the beginning of the year. He showed up in Doha with the famous "mono-blemish" on the side of his face which instantly made Fed fans worry. Then he withdrew from the tournament with a back problem. Doesn't sound like the start he needs for his 2012 campaign. But who knows – come the Slams, Federer is a beast.
Same goes for Nadal of course. If he's okay physically I wouldn't be surprised if he reaches the final. What I would worry about is if Djokovic happens to be on the other side of the net. The Serb looked razor-sharp in the Abu Dhabi warm-up and if he continues 2012 in 2011 fashion, he'll give a lot of players nightmares.
Other player to watch out for come the Australian Open: Monfils, Tsonga, Dolgopolov, Raonic (won Chennai), Murray (won Brisbane, finalist AO last year), Ferrer (always dangerous in hot conditions) and possibly Dimitrov who blasted Fish off court in the Hopman Cup.
I'm starting to get awfully excited – can't the tournament start already?