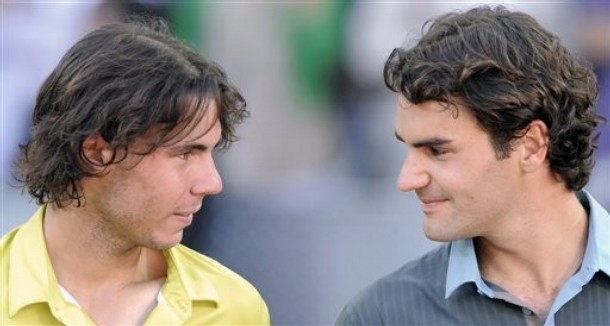 Yes, he didn't win. I don't think anybody thought he would. But he won a set. He threw a tantrum*. He fought hard. And he forced Nadal to play his best tennis to win. This was the real Federer, the one who can play better tennis than anybody else on the planet when he's on his game.
It's pretty clear that Federer can be brilliant in streaks, the question is of course how long he can make those streaks last. Against Nadal he had a few and it was a true relief for a Fed fan to see, although Nadal prevailed in the end.
After the first set I was jumping in my chair in the excitement of seeing the real Federer come to life. But then it all took a bitter turn after the tantrum* because it was a very negative and anxious response and it didn't exactly spell out B-E-L-I-E-F in his own abilities.
But although the second set didn't have much of a competitive scoreline, Federer still fought and really tried his best to show the world he can still trouble Nadal. In the end it wasn't enough and I don't think it will be enough in Roland Garros, but at least it was a positive signal that come Wimbledon, Federer has a good chance to take the title. I think he can still beat Nadal (World Tour Finals in December for example) but the conditions and the circumstances has to be exactly right. The margins are smaller than ever if he wants to beat his rival.
Talking about rivals. The new rivalry in town is obviously Djokovic vs Nadal and it will be interesting to see how the two streak-bearers do today in the final. Does Djokovic have what it takes to beat Nadal on clay and extend his fantastic winning streak? Yes, I think he can, especially here where the roof might be closed and the conditions are relatively fast. But it's still Nadal who goes in as the favorite to extend his amazing clay court streak and it's still Nadal who will go to Rome and then Paris as the big, big favorite.
After all, he is the best clay court player the world has ever seen. Of that, there can be no doubt anymore.
*Federer uncharacteristically stopped playing after a ball landed on the line and then complained when Layhani said he had his eye on the ball and it was clearly in. Hawk-eye confirmed this for the people watching the match but not the players.