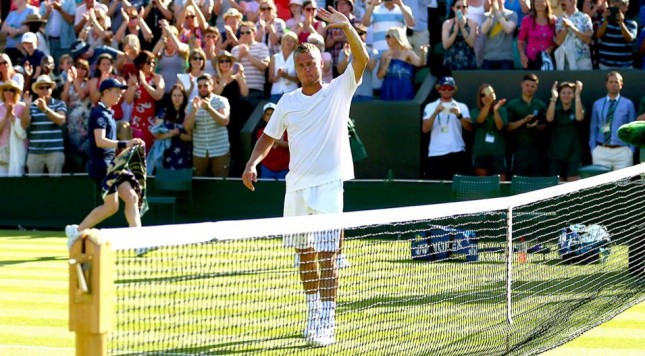 Two hardworking veterans met on their retirement tour yesterday in round 1 in Wimbledon. Lleyton Hewitt had his bunch of yellow-dressed fans chanting for him to get back in the match after losing the fourth set 6-0 to Finnish Jarkko Nieminen. Everyone who follows tennis knows that you should never count out Lleyton Hewitt. That is his trademark as a tennis player and part of the reason he won Wimbledon in 2002.
But now it's 2015 and Hewitt doesn't have the same fire in his belly, the same hustle in his legs. He still seems to be completely unaffected by the score at all times, which is a good thing. He maintains the same deadpan fighting face and works hard for every point and hates every mistake he makes with gusto. There is still will.
He gets up a break in the fifth set and it's the sign of a true champion. He needs to win two more games at 4-3 and the match is his.
What makes tennis so interesting besides the characters playing it, is the scoring system. You can never rest on the score, you need to truly "beat" your opponent, finish the match. This is why it's so important to be a fighter. To work for every point. Not to let your head drag.
Nieminen is not much younger than Hewitt. He's also on his final year on tour. He's definitely a fighter too but doesn't have the illustrious career of the Aussie, despite being a solid performer on tour with two ATP titles to his name. Nieminen wasn't going to give up, despite a head-to-head of 0-5 against Hewitt.
Long rallies, hard-fought points. In many ways it looked like they were playing a final. Both in their last Wimbledon. Both fired up and fighting hard. Against their opponent, against age, against the fading desire to win at all costs.
Nieminen broke back 4-4. Managed to hold his next service game despite facing a break point. Got three match points in the next game. The match is over, right?
Nah, Hewitt saves them all. He's done it before. Plays each point carefully, like he was carrying a Ming vase on a cobblestone street. Wearing rollerblades.
We're at 5-5. 6-6. 7-7. 8-8. 9-9. Then..at 10-9 the break finally comes. And Nieminen wins for his first time against his contemporary.
Hewitt has played his last Wimbledon and really deserved the standing ovation at the end. Winning the title 2002 has cemented him in tennis history. May his attitude and desire to work hard inspire players for years to come.
For Nieminen the tournament continues, although probably not for long. His next opponent is Novak Djokovic.
Kudos, therefore, to two big fighters and for their many years making the ATP Tour slightly more exciting to follow.