The Nordics are coming back to the tennis elite! :) Casper Ruud, Emil Ruusuvuori and Holer Rune. But what is Holger Rune's racquet?
Holger Rune has been a Babolat Pure Drive for most of his career, I would assume strung with Babolat RPM Blast. But in his latest Challenger in Oeiras, he was seen playing with a blacked-out racquet that judging by pictures is nothing remotely similar to a Pure Drive. What is Holger Rune's racquet? For now, it remains a blacked-out mystery.
It's always fascinating to see professional tennis players try new racquets. Whether it's from a potential sponsor or they're just looking to improve something in their game, it's not an easy thing to do. They have grooved their strokes with the same gear for years and every tweak needs time to settle in to their strokes and game. In the case of going for a powerful racquet to a Pure Drive, to something with a thinner beam and less free power, it's quite a dramatic shift and it makes me curious to see what it might bring into Rune's game.
Holger Rune in numbers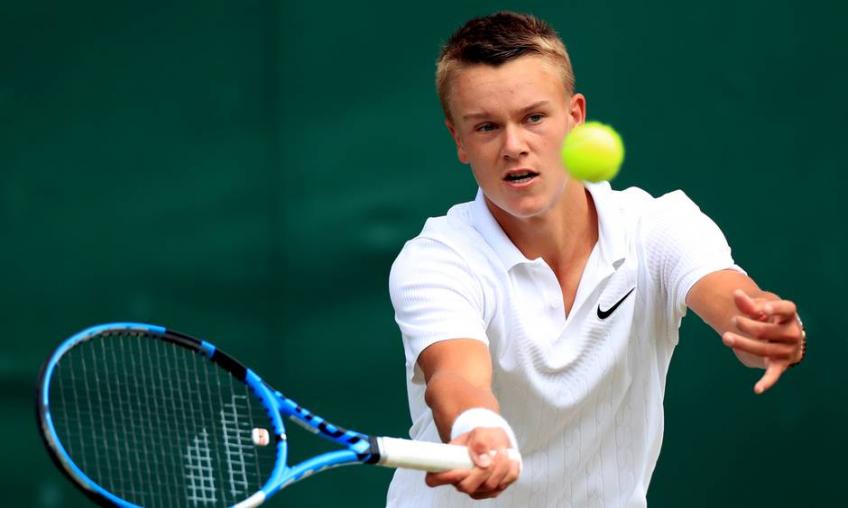 Holger Rune is currently 18 years of age, ranked 291 in the world (career best) and a resident of Charlottenlund in Denmark. His full name is actually Holger Vitus Nodskov Rune. He weighs 77 kg (169 lbs) and is 1.88 m (6'2″). He is happy on clay and his game is built around a big forehand – not dissimilar from Casper Ruud.
He won the French Open Boys' singles in 2019 and became a full-time tennis pro in 2020. He is one of the most hyped-up players on and is expected to make a quick rise in the rankings, similar to that of Carlos Alcaraz Garfia. We have often talked about the next gen, but perhaps we spoke too soon. The generation coming up now could be the one to really break the dominance of the big three. It remains to be seen of course.
What do you think Holger Rune's racquet is and what do you predict for him in the future?