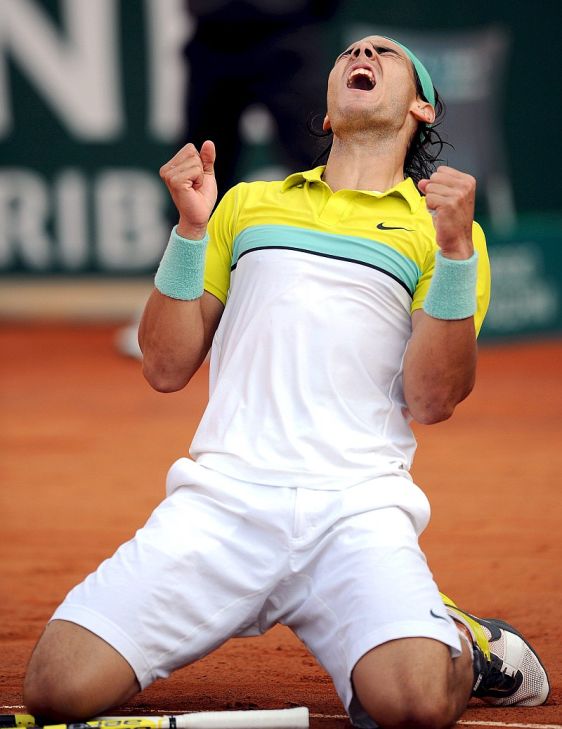 It was close. It was awfully close. But in the end #1 (still!) Rafael Nadal managed to beat Italian #148 Paolo Lorenzi 6-7 6-4 6-0.
Kudos to Lorenzi and the Italian crowd for making this match truly exciting. Lorenzi fought like a madman and played extremely well at times. Normally this wouldn't have been enough but on a day like this Nadal looked tired. Andy Murray's mother Judy even said on her Twitter that she thought he looked tired when she saw him in the hotel earlier.
When Lorenzi broke back at 3-3 in the second set (after winning the first in a tight tiebreak) I seriously thought it was happening – Nadal was losing two clay court tennis matches in a row for the first time in his life! I also tweeted this:  Are the tennis Gods saying that it's Djokovic's turn to take the throne? Or will Rafa pull through? I'm watching in shock.
And that was exactly what I was thinking, that this was a sign for Djokovic to take over. It was just so ominous everything, Rafa beats Fed, Djoko beats Rafa.
But somewhere deep down in Rafael Nadal's warrior heart there was a spark saying No. No? No! No? Nooooooooo! And he broke at 4 all and then managed to serve out the second set.
From there it was all one way traffic and Nadal manage to serve Lorenzi a bagel in the third set.
Close call. Soon Federer will take on Tsonga in what could be another (close) upset.
Rome is heating up.