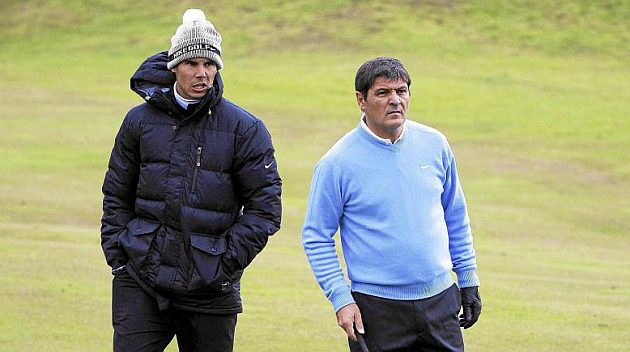 You can still give him golf tips though, Toni.
Toni and Rafa Nadal are the old ball and chain. They've had more success together than most teams in the world of sport. Still, after Rafa's painful loss to Fabio Fognini today in the third round of the Barcelona ATP 500 tournament, a lot of people are questioning whether it's time for Nadal to make a change.
At this point, a few weeks before Roland Garros, it's too soon, but if Rafa doesn't win Roland Garros and doesn't get back to his usual best, I think a change-up before Wimbledon could do him good. After all, the grass season is usually miserable for him anyway so he has nothing to lose.
The Mallorcan bull is a conserative man, but he is testing out a slightly different racquet (change of the string pattern, drill hole placement) so why not go all the way and look at the coaching situation too. That Toni and Rafa has a love-hate relationship is quite clear after reading his autobiography Rafa, so this might be exactly what he needs to re-ignite his passion and confidence on the court.
Obviously, it's easy (and remarkably enjoyable) to be an arm-chair expert, but I still think there's some validity to this suggestion. Nadal is getting at a stage in his career where some kind of slump is due (we saw it happen to Federer) and a way to refresh his game could be a coach change. He for sure needs a run in Rome to have any sort of confidence going into Roland Garros, even though he's won it nine times(!!).
Otherwise, I think we can expect Djokovic to snatch the title. He's by far the best player right now, which is kind of boring to be honest, as tennis is all about the contest. Hopefully Rafa or Roger or another player (although highly unlikely) can give him a run for his money in Paris.
Vamos Rafa! You'll be back. And hopefully soon.