I watched an interesting match yesterday: Jenson Brooksby vs Felix Auger-Aliassime. Brooksby was spectacular and won 6-3 6-4.
Auger-Aliassime was spraying forehands in the first set, which is a scene that is not entirely uncommon. He has such a weapon of a forehand, but his impressive racquet head speed can sometimes lead to some gnarly mishits where the ball is almost sent out of the stadium. Something that is rare to see at this level. Jenson Brooksby, on the other hand, seems to have more of a home-cooked technique. A double-handed backhand volley, not the most elegant stroke mechanic, but can hit pretty much every shot in the book and has a good tennis mind for tactical plays. Check out Jenson Brooksby's profile page on the ATP Tour website.
Both Auger-Aliassime and Brooksby are born in 2000 and both are 1.93 m or 6'4″. They are a part of a wave of new players coming for titles in 2021: Jannik Sinner, Sebastian Korda, Lorenzo Musetti, Brandon Nakashima, Holger Rune and Carlos Alcaraz. All highly dangerous players on the higher levels of the ATP tour despite their young age. It will be interesting to watch most of them compete in the Next-Gen Finals in Milan later this year (Sinner can even qualify for the ATP Finals).
Jenson Brooksby's racquet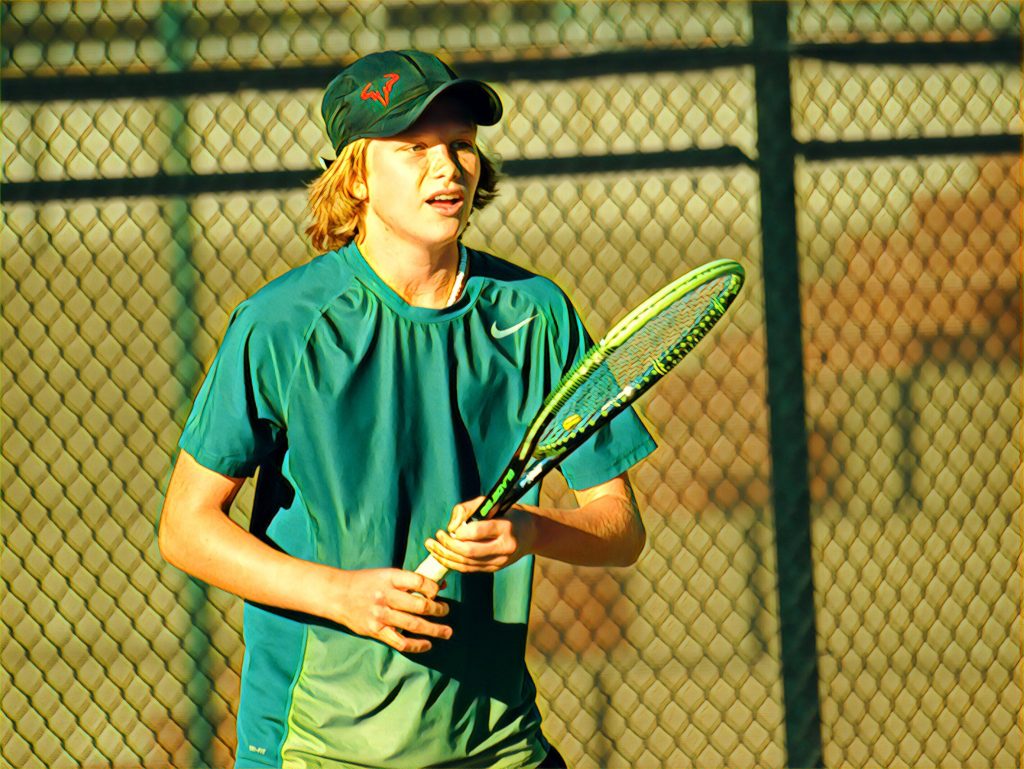 What racquet is Brooksby using? Judging by what you see on the screen, it looks like a retail Wilson Blade 98 (based on the matte paint, but could of course be a Blade 98 pro stock) strung with a red string that I have a hard time figuring out what it is (red strings are rare on tour). Babolat RPM Blast Rough? Tecnifibre Red Code? If you have any information about Brooksby's racquet that you would like to share, please comment below or reach out to me on Instagram or via our Contact Us page.
Digging up some old pictures it seems like he has used a Blade for most of his tennis-playing life, so perhaps it is an older Blade painted to look like a new one.
No matter what racquet he uses, a fun guy to watch with a slightly unorthodox playing style and lots of game.