Sebastian Korda is the son of tennis star Petr Korda. He has recently climbed into the top 100 on the ATP Tour.
Yesterday Sebastian Korda defeated Aslan Karatsev in a one-sided affair 6-3 6-0 (Karatsev was either injured or just tired of playing tennis, but that shouldn't diminish Korda's performance). This means Korda is in his first ATP Masters round of 16. He will face Diego Schwartzman, a stern opponent, but still a decent pairing for Korda.
Sebastian Korda is what the ATP calls a NEXT GEN FINALS Contender. Meaning, he is in the run to qualify for the Next Gen Finals in Milan. The tournament has proven to be a good stepping stone for young players wanting to showcase their skills on a bigger stage.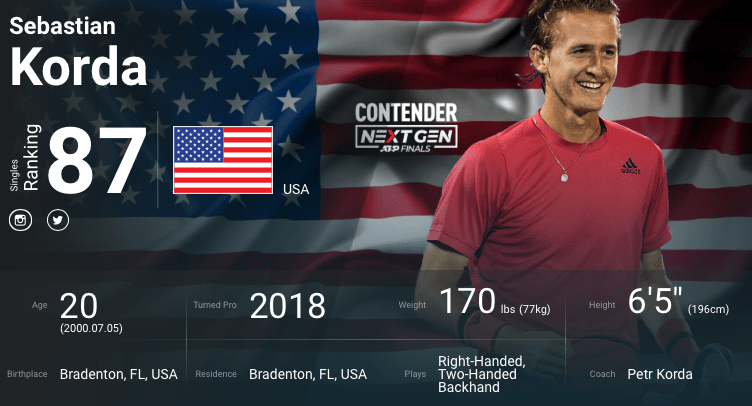 What racquet does Sebastian Korda use?
Korda is sponsored by Wilson and uses their H22 pro stock racquet in 18×20 string pattern, strung with a hybrid of Luxilon Alu Power in the mains and natural gut in the crosses. I don't know weight and balance or tensions, so if you have that information and like to share – please do.
The H22 pro stock is popular among pros and the mold was recently released in a retail version called the Blade Pro (click to watch/read my review). It's a powerful, demanding and flexible racquet with a high swing weight. It's definitely not for the players who want a racquet that is forgiving and easy to swing, but if you have the game for it – it plays very nicely.
I'm not sure about the layup differences between a standard H22 pro stock and the Blade Pro. Although they are similar, they didn't feel exactly the same, but it depends on what type of feel you prefer.
Where do we see Korda going?
Korda has all the characteristics of a solid pro player. Good height, solid groundstrokes, nice serve, mental stability and so on. It's maybe not the most creative game style (Kyrgios would likely not approve), but an efficient one. He is yet another player that plays above his age and experience. He is only 20 and has plenty of time to improve and potential to build on.
Can he be a slam winner in the future? I'm keen to hear what you think.