I was checking the scores from the ATP 250 in Umag yesterday and was a bit shocked to see the result: Vit Kopriva vs Mikael Ymer: 6-1 6-0.
I checked the highlights of Vit Kopriva's match against Ymer and was impressed by his aggressive game and clean ball-striking. He is ranked at 249 in the world, 24 years old, and comes from the Czech Republic. His speed on the court is one of the most impressive aspects of his game, but he seems like an all-court player who does most things pretty well.
Vit Kopriva is 1.78 m (5'10') and weighs 69 kg (152 lbs) which is pretty small and light for a professional tennis player. I'm sure this helps his on-court speed a lot. He has beaten some strong players already this year: Benoit Paire and Denis Shapovalov to name two.
The ATP did a "Five things to know about" feature with Vit here. In the post they write:
Although Kopriva idolised Federer, he also holds great respect for Rafael Nadal, another 20-time Grand Slam champion. When the Czech was 15, he read the Spanish legend's memoir "Rafa".
"I realised I had to work hard like he did amazingly [well]," Kopriva said. "He spent so many hours on court, so many hours on fitness, and I didn't at that time. I just started to play more, enjoy more tennis and get more power from that moment."
Semi-finals in Umag, what's next?
In today's semi-finals, Kopriva is playing Casper Ruud. A player who is a force on clay, has won 2 titles in 2021 and is nearing the top ten ranking (currently at #14). I doubt that Kopriva has enough in his game to beat Ruud on clay, but if he is an aggressive player and if he hits a purple patch – who knows?
Is this week a one-off for Kopriva? Time will, as always, tell, but it looks like he has the game and it sounds like he has the dedication to keep climbing the rankings.
Vit Kopriva's racquet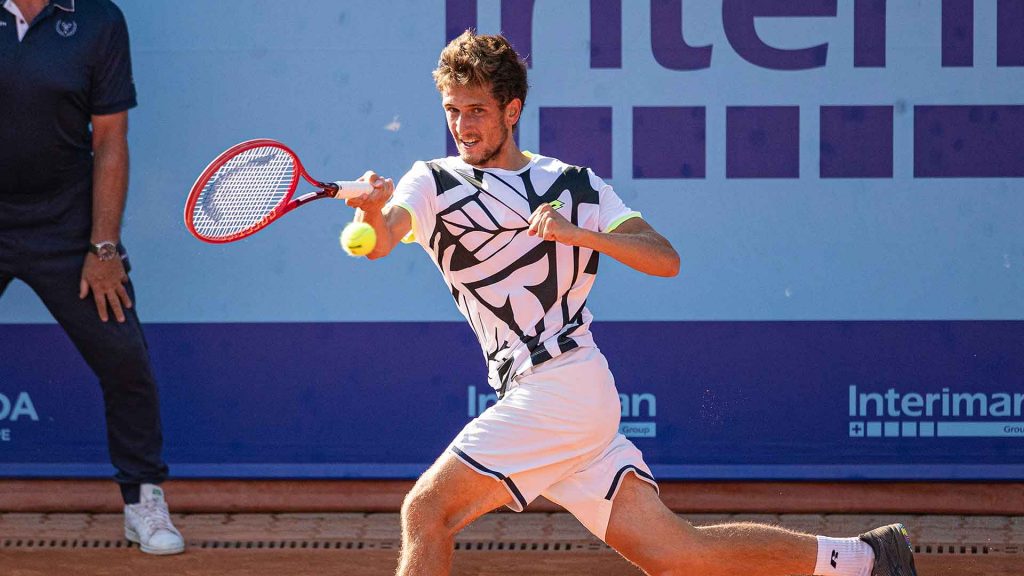 What racquet does Kopriva use? It's hard to know for sure, but on the forums, the word is that he uses a HEAD Graphene 360+ Prestige Pro. I don't know about his string setup, but I would guess HEAD Hawk or Sonic Pro. Similar to what Aslan Karatsev uses. Both big hitters who go for their shots and want maximum control and confidence in their setup.
If you know more about Vit Kopriva's racquet specs, don't hesitate to share in the comments below.