Serena Williams' future appears to be uncertain on the back of her loss to Naomi Osaka at the Australian Open this week. The pro tennis veteran took a moment to welcome in the applause before leaving the court, waving before placing her hand over her heart. She took a second pause, waving another time before making her way off after the disheartening defeat.
Williams' participation at this year's Open in Melbourne is done. The American exits at the tournament's semi-final stage, with her match against Osaka ending in straight sets.
Fans are left to wonder what might become of Serena's career but she had to deal with reporters who were just as curious almost immediately after.
"I don't know," she told them, per ESPN. "If I ever say farewell, I wouldn't tell anyone."
Serena's press conference
Serena made a valiant attempt to keep her composure, smiling as she answered. However, a question from another member of the press managed to crack the seemingly calm exterior. Asked about the number of unforced errors leading to her loss, the 39-year-old drank water in hopes of keeping her tears at bay, also keeping her eyes pointed downward and blocking them with her visor.
"I don't know," she said, her voice cracking. "I'm done," she added before leaving abruptly.
Early Thursday morning, she took to Instagram to thank her supporters.
"Melbourne and my Australian fans- Today was not an ideal outcome or performance but it happens… I am so honored to be able to play in front of you all," she wrote. "Your support -your cheers, I only wish I could have done better for you today. I am forever in debt and grateful to each and every single one of you. I love you. I love you. I love you. I adore you."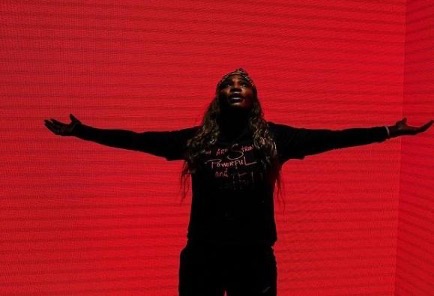 Photo via: serenawilliams/Instagram
Whether or not the post is indicative of retirement is up for debate; Serena has left it all to speculation. Given the stage her career is in, though, one would have to suspect the end isn't very far away.
The Michigan native looked to be on course for a finals appearance, playing her best tennis since returning from a maternity hiatus in 2018. She came into the tournament free of injury after making a complete recovery from an Achilles problem that forced her to withdraw from the French Open in 2020. She got past a test vs. Aryna Sabalenka in the fourth round, moving ahead in three sets before beating World No.2 Simona Halep. The Romanian beat Serena in the 2019 Wimbledon quarterfinals.
Melbourne seemed just the place for a historic feat given she'd won seven titles there, one coming while she was pregnant with her daughter in 2017. Just one Grand Slam away from tying Margaret Court's record, having won 23, Serena has come dreadfully close on multiple occasions. She's reached two finals and two semis since her last coup, with the latest coming against Osaka.
Osaka is a force in the women's game
The Japanese bested Serena when they met in the final of the 2018 US Open. The opportunity for revenge was in her grasp, in a place she holds dear to her heart yet the 23-year-old managed to get the better of the wily vet again and is now set to take on another American in Jennifer Brady on Saturday. With the Open heading toward a crescendo for both the men and women, a sports betting flurry is expected. Osaka is favored to come out on top at 2/9 while her opponent is 7/2.
Writing a column in The Telegraph back in January, Osaka had paid homage to Serena and her older sister Venus.
"My young aspirations owe so much to Serena and Venus, she wrote. "Without those trailblazers, there would be no Naomi, no Coco [Gauff], no Sloane [Stephens], no Madison [Keys]. Everything we did was inspired by them, and my sister and I would dream about one day playing them in a Grand Slam final."
"Of course, Serena and Venus have been my role models since I was young," she told ESPN ahead of the Australian Open. "My goal is to have the chance to inspire the younger generations the way Serena and Venus were able to inspire my generation and so many other generations."
While she might be responsible for quickening her idol's retirement, Osaka lamented over the possibility of Serena Williams walking away from the game. "It's kind of sad when you say it like that because, for me, I want her to play forever," she admitted. "That's the little kid in me."
Serena is by no means washed up, despite the uncharacteristic mistakes she made vs. Naomi and there will be other opportunities to grab that coveted 24th Grand Slam. Whether or not she decides to go for it remains the burning question.