Today I visited the Rafa Nadal Academy in Manacor, Mallorca. I got a tour around the facilities (video to come) and watched Nadal training with coach Moya.
I assume the rib injury he sustained in Indian Wells has healed because he was hitting forcefully (like normal) in his practice with coach Moya and one young player at the academy. As you can imagine, plenty of spectators were there, wanting to see the living legend hit with their own eyes.
Unless there are some remnants of the injury still plaguing Nadal, he is the favorite to win a 14th French Open. But Djokovic is back to winning ways in Belgrade and Tsitsipas just defended his Monte Carlo trophy, so there are contenders who can take him down. Still, most experts won't bet against Rafa at Roland Garros.
The Academy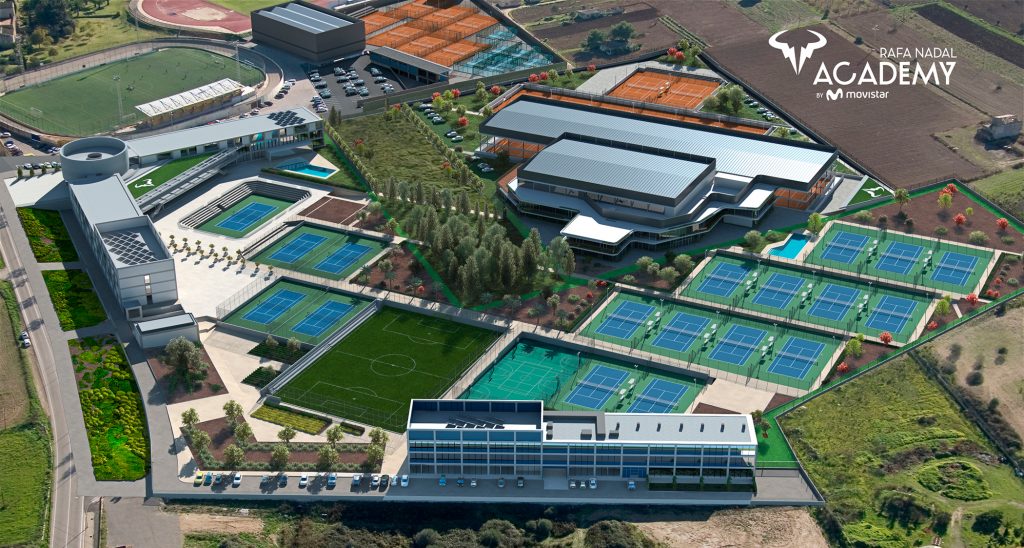 The Rafa Nadal Academy shocked me with its size, ambition, state-of-the-art equipment, number of courts, gyms, spa, restaurants, a museum, a Rafa shop, a racquet shop, a medical centre, a hotel, lodging for the juniors, a school – the list is endless. Antonio Arenas, co-author of the excellent book "Rafa & Roger" is the media director of the Nadal academy and despite being on very short notice, he managed to give me a tour of the place.
I was pretty shocked at how large, luxurious and well-equipped this academy was. I've never seen anything like this. And if you're a real Rafa-nerd, you will surely enjoy the museum with his trophies, racquets, and outfits. This is alongside other pro player racquets (donated to the academy) and with a tribute also to other sports like football and basketball.
I hope to go there in the near future and try out one of the many courts. If you're very ambitious about your tennis, they do have a training camps and packages for both junior and senior players. And every year they run a bunch of tournaments. Last year they held a Challenger (Andy Murray took part) but they also do some senior ITF tournaments.
A video to come about my visit to the academy and the museum. But simply put: this is like Disneyland for tennis nerds!