On 24th September 2022, the sport of tennis said goodbye to one of its all-time greats. Roger Federer – winner of 20 career grand slams – gave a tearful farewell at the O2 Arena in London following defeat in the Laver Cup.
Oddschecker, which compares odds and provides free offers on Tennis, made the Swiss icon and Rafa Nadal favorites for their doubles match against American duo Jack Sock and Frances Tiafoe. However, the favorites eventually succumbed to a 2-1 defeat.
The announcement of Federer's retirement prompted an outpouring of emotion both in the arena and on social media, with sports fans – and not even specifically fans of tennis – sharing videos of the icons of this generation. Federer was pictured alongside Lewis Hamilton, LeBron James, Serena Williams, Cristiano Ronaldo, Lionel Messi, and Floyd Mayweather. As well as that, many were sharing the iconic photo that the eight-time Wimbledon champion posted on Instagram alongside Novak Djokovic, Rafa Nadal, and Andy Murray; the quartet that dominated Tennis for so many years.
Indeed, this has been an iconic era of sports and one we all should feel lucky to have been a part of.
There was one competition where Federer shone brightest. Wimbledon. The former world number one has won the famous grand slam on eight separate occasions, more than any other player. Between 2003 and 2007, he won the tournament five times in a row, a record that Serbian great Djokovic could match with a victory next year. With his slick skillset and devilish good looks, no player has endeared themselves to the London faithful more than Federer.
Let's look at his greatest-ever win at the All England Club. Watch it on Youtube.
2007 Final – Federer def. Nadal (7-6, 4-6, 7-6, 2-6, 6-2)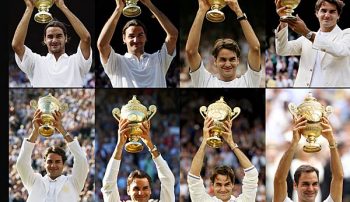 Back in 2007, Roger Federer was at the peak of his powers. He had won six of the last eight grand slams he competed in and was the undisputed world number one. At the time, fans and pundits alike were discussing whether the Swiss maestro was the greatest player the sport had ever seen. But there was a new, young, hungry Spanish upstart that was coming for Federer's throne.
A 19-year-old Nadal romped to his first of 14 French Open titles two years prior. The following year, he won his second. A couple of months later, he reached the Wimbledon final for the first time. However, Federer wasn't ready to give up his title as King of the Jungle. He showed the young lion he was still the boss, racing to a 3-1 victory.
In 2007 though, Nadal was back, and back with a vengeance. With three consecutive French Open titles now under his belt as well as featuring in back-to-back Wimbledon finals, many thought the time of Nadal was now upon us. And it very nearly was…
Federer managed to eke out the first set via a nail-biting tie break. But his young Spanish opponent broke in the second set and managed to tie things up at one apiece. Federer would again win another tie-breaker in the third, before Nadal put his foot on the gas in the fourth, breaking twice and sealing another set 6-2.
At this point Federer was under the cosh, and a changing of the guard seemed imminent. How would the great man bounce back? Had he finally met his match after so many years of dominance? The answer was of course, no.
Federer showed that he had plenty left in the tank and upped his game when it mattered the most. He reeled off game after game, leaving his young Spanish opponent with the realization that he had no answer to the Swiss superman's greatness – not at that point anyway.
Federer would hold his nerve to seal the final set by a score of six games to two and a fifth consecutive Wimbledon victory, much to the delight of his adoring fans at the All England club.