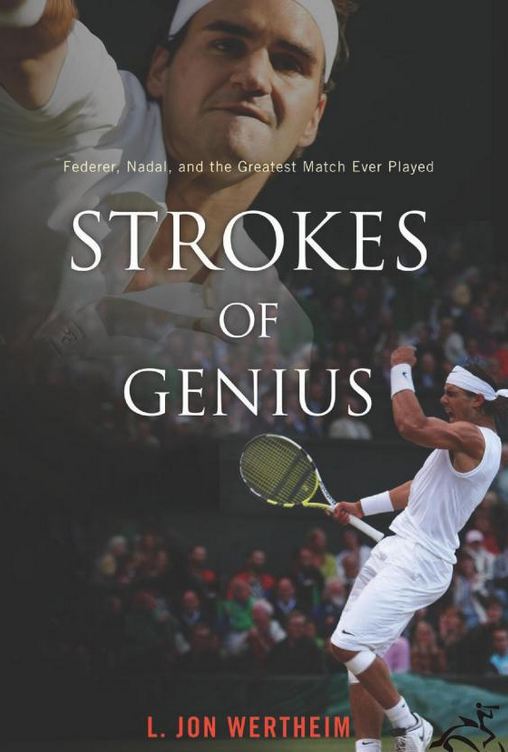 I recently ordered three tennis-related items. The DVDs for the Wimbledon finals 2008 and  2009 and L Jon Wertheim critically acclaimed book about the 2008 final called Strokes of Genius, Federer v Nadal, Rivals in Greatness.
I started out by watching the Roddick vs Federer final from 2009 and is struck, because I was too nervous watching it when it happened to analyze, the old school shortness of the rallies. This was the opposite of the 2008 final where the points were long and demanding and Nadal pounded Federer's backhand relentlessly. Roddick impressed me the most in this final, his attitude, his game, his determination. I don't think he ever played a better tournament than Wimbledon 2009, but still he lost 16-14 in the fifth set.
And Federer didn't look that good. His mind looked elsewhere at times, and maybe it was with twins soon on the way. He wasn't returning well but still didn't change court position when returning. Maybe he was confident that he would win it in the end anyway, with the head to head stats being 18-2 in his favor before the final. He could also have been more relaxed due to his fantastic serving, even out-acing Roddick in the end.
I am Federer fan, but in the end of the match I couldn't help but feel that Roddick deserved it more. He had really fought so hard, done everything in his power to win his match and really risen to the occasion and yet he came up short against a Federer who wasn't even in top form. It will be a match he won't forgive himself for losing.
If you remember, Roddick was up a set and 6-2 on the tiebreak when Federer came back to win the rest of the points in the breaker. Everybody was talking about a high backhand volley that Roddick should have put away at 6-5, but Federer's shot was a misshit and it wasn't as easy as it first looked. The ball sailed long and Federer won the set and went on to take a 2-1 set lead and the match could have been over, but Roddick fought himself to a 5th set. It was a glorious day for Federer, beating Sampras record, winning his 15th slam, but in the shadows were Roddick who despite being devastated was a class act in the interviews afterwards. Even though he lost the match, he won a lot of respect that day.
Anyway, this post wasn't really about that final. It was about the book Strokes of Genius. I haven't finished it, but after ten pages I am locked into an immensely enjoying read. Just read this introduction:
Beyond their records, their rivalry was heightened by clashing styles. One could spend hours playing the compare-and-contrast game, Federer versus Nadal and bodies righty versus leftie, Federer's classic technique versus Nada's ultramodern game, Federer's feline light versus Nadal's bovine heavy, Federer's middle European restraint and quiet meticulousness versus Nadal's Iberian bravado and passion, Federer's dignified power versus an unapologetic whoomping brutality, Federer's Zeus versus Nadal's Hercules…
I am sure I am going to enjoy this capture of the best match of all time. Then I'll watch it on DVD and make up my own mind about it and surely you will find another post on the subject later on.