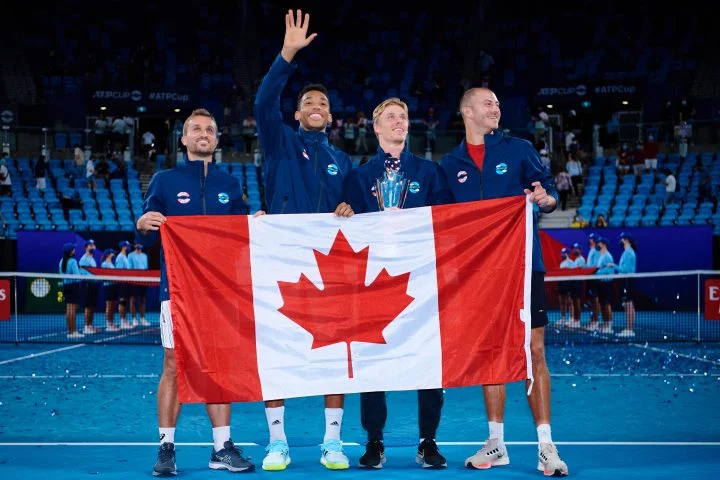 Team Canada wins the ATP Cup after defeating Spain in the final in two matches played by Denis Shapovalov and Felix Auger-Aliassime.
It's not the biggest surprise that Canada wins the ATP Cup 2022, but they did have to win some tough matches against Russia and Spain. Both Shapovalov and Auger-Aliassime showed true tennis talent, grit and determination during the ATP Cup and this bodes well for more success in the 2022 ATP season.
I was happy to see Auger-Aliassime pull off the win in the last match against formidable opponent Roberto Bautista-Agut. He has lost 8 ATP finals prior to this match and with a lot at stake and that kind of mental scar tissue, I wasn't sure he was going to pull it off. But he played a very good match and sealed victory for Canada 7-6 6-3.
What does this mean for the rest of the season?
I think Auger-Aliassime and Shapovalov will take a lot of confidence from this win. Winning a team event means a lot to tennis players and Canada lost the 2019 Davis Cup final to Spain, so this was a sweet revenge for the team. Canada has never won the Davis Cup, so I'm sure the ATP Cup title means a lot to them.
Winning big early in the year can unlock some freedom in their play, which might make both Aliassime and "Shapo" play freer. They both have tremendous power and talent, so improving the mental side of their game will be extremely important for success. A win like this can be a big milestone towards more wins.
It will be fascinating to follow both youngsters (Aliassime 21, Shapovalov 22) in the rest of the season. After some impressive results last year, maybe this is the year where it all comes together?
Congratulations Team Canada on your ATP Cup win!