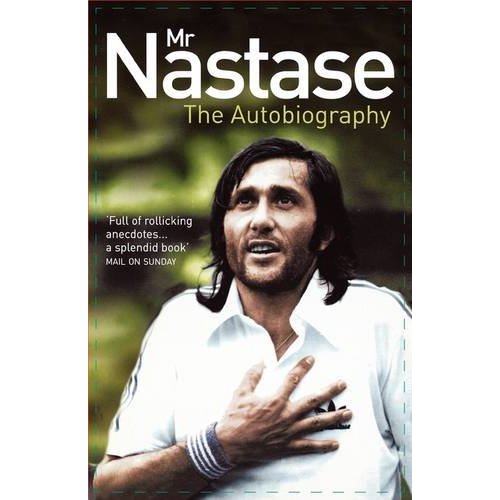 Mr Nastase
is a great and candid book from a fantastic player and personality, Ilie Nastase. I've read a LOT of tennis player biographies and this one's up there among the top tennis books.
This is a good review from top Amazon reviewer Gaetan Lion.
Buy the book here and support this blog
This is an entertaining book about one of the most charismatic players of the Open era. Win or loose he enjoyed the game like few ever did. He was active on the ATP tour until 37. And, he still reached the 4th round of the US Open at 36.
The book's appendix discloses fascinating statistics. You can see his win/loss track record against many players. His career being so long, it tied the Australian era to the Open era. Thus, he had a 9-2 record against an aging Rod Laver (8 years older) but a 3-5 record against a young McEnroe (13 years younger). These records don't mean anything. One champion is aging while the other is entering his prime.
As a man, he had much fun. Per his own estimate, he bedded 2,500 groupies. He had a wonderful love affair during his first marriage. Even though it predictably ended in divorce , the divorce was not wrenching affair vs what Becker and McEnroe endured. Nastase's relationship with women was similar to the one he had with the public. No one could be mad at him for too long.
Nastase lost mental control in his matches. Unlike Connors and McEnroe who could create winning strategies out of the chaos, Nastase was the victim of his shenanigans. His bad behavior cost him tens of thousands of dollars in penalties.
As a result of his lack of mental control, Nastase's legacy is a fraction of what his talent warranted. He won only two Grand Slam tournaments (73 French Open and 72 US Open). Tens of players have far greater legacies.
Nevertheless, Nastase still fascinates. In fact Federer's versatile game most resembles Nastase. Both men have the ability to win on any surface against any opponents, and hit shots nobody else can. Adding Nastase's unpredictable behavior to the versatility of his game just contributed to the legend.
There is no doubt Nastase was an all around extraordinarily gifted athlete. As an aging star, he had to play sports he had never learned for various TV shows. After just 5 minutes of learning the grip, he hit par on his first golf hole. After Ion Tiriac teaches him ice hockey. Within 15 minutes Nastase was chasing Tiriac around the skating rink. Not bad for a guy who had never skated.
The biography gets even more interesting as he retires from the ATP circuit. Because of his profile, he met everybody. He is on a first name basis with Bill Clinton, Tony Blair, George Bush Sr. and Jr, Jack Nicholson, Mick Jagger. He likes everyone of them. Nastase also describes the chronic political crisis plaguing Romania. His firsthand experience makes for a fascinating account about the living condition in this country.