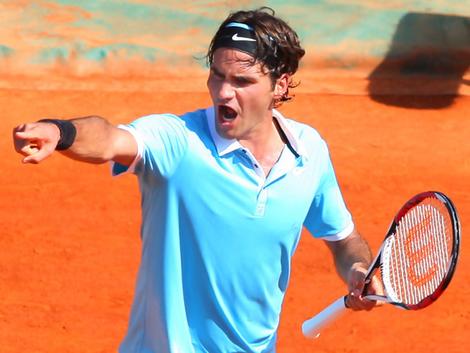 The biggest clay tournament of the year is on and if day 1 wasn't that exciting to be honest, day nr 2 is something completely different. Firstly we saw Roger Federer win quite easily against Peter Luczak. Federer wasn't fedtastic, but he definitely was on cruise control and didn't lose his serve once and only faced one break point. A good omen for things to come. Federer will definitely be in the semis, that is my gut feeling right now.
Djokovic lost a set against Korolev and looked uninspired, but still managed to grind out the win in 4.
Murray vs Gasquet is a blockbuster of a first match and the Frenchman has started excellently and as I am writing this he has just won the first set and is hitting the ball really well. Everybody knows that clay isn't Murray's best surface, but a player of his strength should be a menace on any surface really. Gasquet is one of those players that can play fantastically for two sets and then fade out completely. He is a talented choker that deserves being much higher up the rating looking at his game only.
Coming from his first tournament win in three years, in the ATP tournament in Nice, beating Verdasco in the final, Gasquet should be confident and in top form and can very much beat a Murray who has had a quite a bad couple of tournaments since that Australian Open final he lost to Federer.
Losing that final to Federer must have torn a hole in Murray's self-belief. With good stats against Federer he probably thought the final was his for the taking, unlike the US Open final 2008 where he never really had a chance. But Federer came in his best mood and played one of his best matches of late to win in three straight sets. It must have been tough to go in with that belief, give your all, and then be let down horribly.
Anyway, this is not about that final or any other. The French open has started and with some really good tennis being played already!